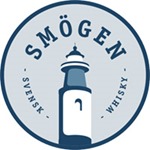 The Sherry Project 1 series consists of four sherry cask expressions from the Smögen distillery in Sweden. All four have been distilled in July 2011 and matured in casks seasoned with sherry. This Sherry Project 1:4 was full-time matured in European oak quarter casks.
Smögen (named after the nearby Smögen island) was established in 2009, with the first spirit flowing in 2010. They also produce the Strane gin.
Smögen 4 yo 2011 'Sherry Project 1:4' (57,2%, OB 2015, sherry quarter casks #25 + 26 + 27 + 29, 909 btl.)
Nose: elegant mix of peat smoke and sherry. Red berries, raisins and hints of tobacco leaves. Quite some malty notes and vanilla at its core. Crushed peppercorns, orange peel. Refreshing 'green' top notes of menthol / pine wood. Fairly gentle given the strength, but nicely balanced.

Mouth: hotter now, very sweet, with figs and raisins, alongside caramelized nuts and wood smoke. PX sherry? Black pepper. Tobacco and vanilla. Again this minty pine wood. A tad rough and young, but well done.

Finish: long, on slightly astringent spices (ginger, clove), balanced by molasses and mint.
Not a complex whisky, but a nice achievement for a young distillery and a young dram. Originally around € 100 for 50 cl.
Score: 86/100