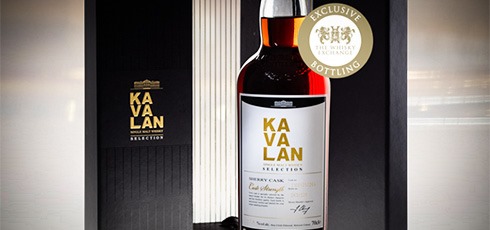 The Whisky Exchange has just released an exclusive single cask from the Taiwanese Kavalan distillery, an Oloroso sherry butt filled 25th of January 2010 and bottled at their standard strength of 57,8%.
By the way, this is a good opportunity to mention the fact that TWE recently started offering 3cl samples. The service is called The Perfect Measure. You can get a pre-made selection (e.g. five 30 Year Old whiskies) or make a random selection. They have vodka, tequila, rum, whisky and much more, each in a nice bottle with an attractive label. There's even a sample of a Karuizawa 1983…
Kavalan 'Selection' Sherry Cask
(57,8%, OB for The Whisky Exchange 2016, Oloroso sherry butt #S100125026A, 526 btl.)
Nose: quite a rich, rounded nose, with all the expected plum juice, raisins and figs but also fresher notes of cherries and raspberries. Hints of espresso and pipe tobacco. Cinnamon and furniture polish. A little tiger balm. Oranges with clove. Cognac. Aniseed. A slightly acetic hint of Balsamico.

Mouth: hot, showing the same Balsamico character and a slight astringency. Blackberries and prunes, cinnamon bark. Nutmeg. Morello cherries. Then more towards herbs, earthy notes, charred oak and walnuts.

Finish: very long. The dryness in the very end (often Kavalan's Achilles heel) is well within limits. Tobacco, chocolate dessert and cough syrup.
A good sherry monster and a very good selection in the sense that it has some earthy Karuizawa notes but also keeps a certain roundness until the very end. Certainly one of the better examples. Around € 180 from TWE.
Score: 90/100