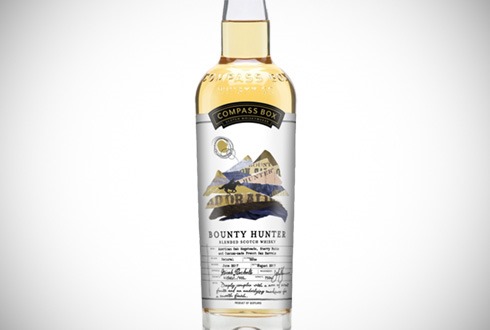 Compass Box Bounty Hunter
Bounty Hunter in Napa Valley, California is a wine & spirits shop + bar that regularly has exclusive bottlings. Coming up is Compass Box Bounty Hunter, a blended whisky matured in American oak hogsheads, sherry butts and CB's French oak barrels. Approximately 5% of the recipe comes from heavily peated Islay malt. Only 369 bottles will be available.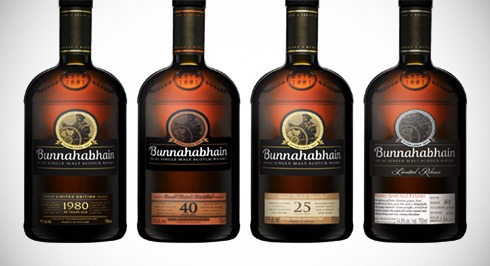 Bunnahabhain 1980 Canasta and more
Bunnahabhain announced an £ 11 million renovation in July and they are also working on a slight update of its label design, with a classy dark version of the brand name and sailorman. Most of the upper range bottlings like the 25 Years and 40 Years now say Small Batch Distilled and have gold / copper accents.
New expressions include a Bunnahabhain 36 Year Old 1980 Canasta finish. It is matured in Oloroso casks and finished for a few months in Canasta casks – a sweet Cream sherry from Bodegas Williams & Humbert. Priced around € 1900 with 1200 bottles available soon.
There's also a Bunnahabhain 2003 Pedro Ximénez finish set to launch in September, matured in second fill sherry casks with a three year PX butt finish. Priced around € 95 with 5000 bottles available.
Also due in September is a Bunnahabhain 2004 Moine Brandy finish, peated to around 40ppm and finished in French brandy casks.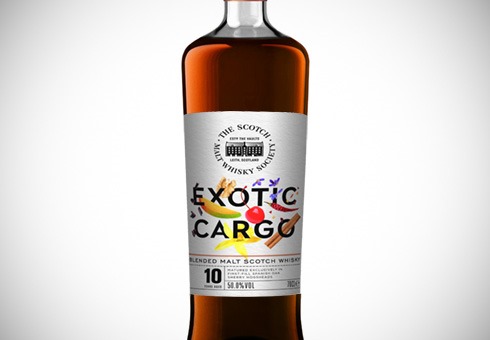 SMWS Exotic Cargo
In the UK the Scotch Malt Whisky Society unveiled its first ever blended malt whisky. It is called Exotic Cargo and based on a selection of pre-blended malts distilled in 2006 and matured from birth in first-fill Spanish oak sherry hogsheads.
It is described as a "sherry-soaked cruise into paradise" and has an outturn of 1937 bottles. Around € 50.
BenRiach Temporis 21 Years
About a month ago, I wrote about a new BenRiach Rarus 21 Years, a peated expression. Now a new label popped up in the TTB database, identical except for the name. It now says BenRiach Temporis, again peated, 21 years old and matured in four types of wood. Maybe they decided to go for a different after all?