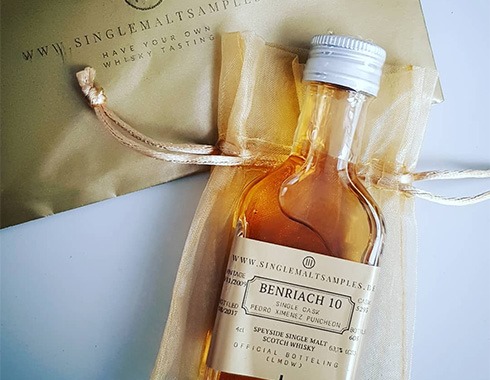 Last week I was offered a whisky sample from a new shop called Single Malt Samples. I applaud the initiative, I personally rely heavily on samples for my reviews and the number of shops offering them seems to be in decline, sadly.
Apart from individual 4 cl samples, they are selling tasting kits which include samples and information sheets about each whisky, packaged in a gift box. There's also a mystery box with samples that are not visible on the website.
I'll be reviewing the BenRiach 2006 cask #5293, a single cask bottled for La Maison du Whisky in Paris.
Looking at the sample price, € 15 seems quite heavy (almost 3x the original price) but of course this is a rare bottling, I have the impression common releases are relatively cheaper.
BenRiach 10 yo 2006 (63,1%, OB for La Maison du Whisky 2017, Pedro Ximénez puncheon #5293, 597 btl.)
Nose: clean, rather energetic and heady nose. Nutty notes, aromatic leather and spices, a little furniture polish. Underlying fruits (blueberries, apricots, light citrus) and cocoa. Subtle floral notes too.

Mouth: sweet and spicy. Tobacco and leather, mixed with floral touches and exotic spices (nutmeg, clove) give it a slightly oriental touch. Walnuts. Hints of oranges and grapefruit skin, cocoa and green oak.

Finish: long, with a charred note, spices and liquorice.
Quite a powerful, spicy and rather heady PX cask which takes water well. A bit unusual, not as sweet as you'd expect, resulting in an above-average complexity. You can buy a sample for € 15 over at Singlemaltsamples.be or a full bottle from Master of Malt.
Score: 86/100