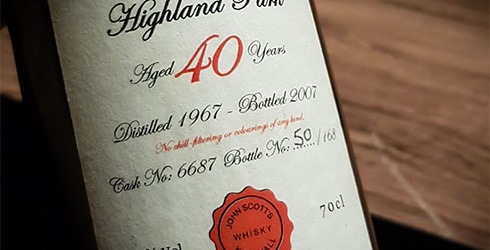 John Scott's (later Johnn Scott & Miller) was a grocery store in Kirkwall, Orkney which also delivered handyman services to the Highland Park distillery. They also had a tradition to do shop bottlings for their neighbours.
In 1967 the owner Robert Firth Miller was paid for one of his jobs with twelve sherry casks (some sources say quarter casks) filled with new make spirit. They were passed on to his son Robert M Miller and between 2003 and 2009 all casks were bottled by Duncan Taylor, some mentioning John Scott's on the label, others simply under the Duncan Taylor brand.
I must admit I hadn't heard of these bottles until this 40 years old cask #6687 was opened by our friend Karel, as the highlight of the rather magnificent line-up in his 40th birthday tasting, opening nearly a dozen bottles, each 40 years or more!
Highland Park 40 yo 1967 (47,1%, John Scott's 2007, cask #6687, 168 btl.)
Nose: very rich, excellent fruity sherry, including some raspberries and strawberry jams, prune sauce, blood oranges and rumtopf. Lovely hints of furniture polish and waxed floors, high-end balsamic and light solvents. White pepper and a perfect dose of heathery smoke underneath. Chocolate, whiffs of coffee beans. Leather. Perfect old-style sherry.

Mouth: clear but gentle smoke now, with oriental wood and a little sour tobacco juice. Herbal notes, coffee beans, some rancio. Nice hints of Earl Grey ganache (as Dominique Persoone makes it). Dark cherries. Big cigar notes, more dark chocolate, a pinch of salt. Bitter oranges.

Finish: long, fairly dry now, with dark chocolate and herbs. A tad woody but still impressive.
Absolutely delicious, very intense which brings along some dryness on the palate. Just glorious old-style sherry: fruity, complex stuff. They fetch almost € 2000 in auctions now. Respect to Karel for opening such a bottle on his birthday tasting. Cheers, mate!
Score: 93/100