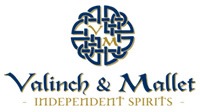 Valinch & Mallet is a fairly young independent bottler headquartered in London but run by two Italians Davide  Romano (who was formerly employed in a bank) and Fabio Ermoli (a wine importer).
In the past couple of years they've released a nice series of whiskies and rums, all un-chill filtered and natural colour, most of them at cask strength.
There are four Valinch & Mallet collections: Hidden Casks (under 20 years, silver plaque), Lost Drams (over 20 years, bronze plaque), XO (over 30 years, gold plaque) and the Young series (with a lower ABV).
We'll start with an older release and look at some upcoming releases later. South Shore Islay at 8 years of age, that's probably Lagavulin.
South Shore Islay 8 yo (48,8%, Valinch & Mallet 'dumpy series' 2016, bourbon hogsheads)
Nose: rather soft and malty, with thin and grassy peat. Mezcal notes. Wet wool, autumn leaves, a little iodine and plenty of sweet herbs like aniseed and parsley. Hints of oranges underneath. All fine.

Mouth: smoked lemons, dry ashes and white pepper. Hints of smoked fish and vanilla. Sweetness underneath, yellow plums and apples. Growing salty notes and wet chalk.

Finish: medium long, earthy but still quite round, with malty notes and ashes.
A sweeter version of Lagavulin, fairly straightforward. Can't say it beats the official 8 Years but it's certainly enjoyable. Still available from Master of Malt.
Score: 84/100