Ichiro Akuto is the founder of the Chichibu distillery and one of the most respected distillers in Japan, but also an experienced blender. Ichiro's Malt WineWood Reserve is a blend of malt whisky from Chichibu and the closed Hanyu distillery (in decreasing amounts over the years), but also Scotch whisky.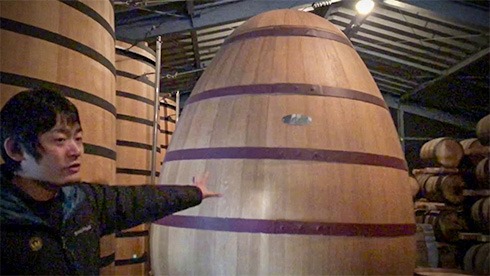 This is finished in a wine casks, the rather unique Ovum casks, which are 20 hl egg-shaped barrels made from French oak, shaped in the Charentes region by the Taransaud company. I've seen them being used in the Bordeaux region where they have some oenological advantages, but never in whisky.
I'm not sure which batch I'm trying, it's probably quite new. It is bottled at 46.5% ABV contrary to earlier releases which seem to be 46%.
Ichiro's Malt Wine Wood Reserve
(46,5%, OB 2018)
Nose: initially very vinous indeed, like a Bordeaux finish. This leads to black cherries, blackberry jam, yellow apples. Hints of violets and toffee. A little chocolate. Black liquorice. Also a certain leathery or fragrant side (oriental spices).

Mouth: going further on baked apples and blackberries. Caramel coated nuts, plenty of peppery notes, cinnamon and a touch of anise. The wine is still very obvious, with light tannins, but certainly not overdone.

Finish: medium, on sweet wine and chocolate, with drying spices in the very end.
Japanese whisky with a strong wine impact, but within this category quite successful (I often have trouble with red wine finishes). Well done. I can only find this batch at The Whisky Exchange.
Score: 87/100