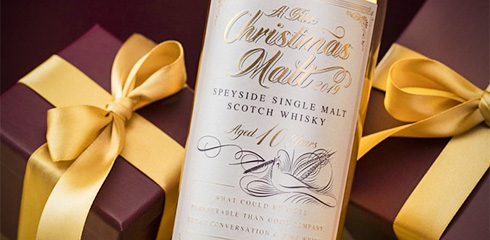 The Whisky Exchange has an ongoing tradition of selecting a special Christmas Malt for the festive season (see last year's edition), typically showing great value for money.
This year they selected a Linkwood 10 Year Old single malt matured in ex-bourbon and sherry casks.
Linkwood 10 yo 'A Fine Christmas Malt' (54,2%, The Whisky Exchange 2019, bourbon + sherry casks, 2696 btl.)
Nose: tarte au citron with meringue. Then green apples and lemon peels, with hints of vanilla yoghurt. Rhubarb. Fresh white bread. Light whiffs of jasmin and mint. Leathery and mineral notes. Slightly more waxy and buttery when diluted.

Mouth: powerful, on sweet breakfast cereals, lots of Grany Smith apple skins and lemon sweets, cardamom pods, hints of sunflower oil and grassy touches. Slightly eau-de-vie-like. Growing toffee, almond biscuits and mint towards the end.

Finish: not too long, but clean. Nutty notes, oak spice and some leafy, floral hints.
This one's full of lemon dessert and bright apples, which is certainly a different take on the Christmas theme, not the classic sherry-and-spice character. Exclusive to The Whisky Exchange (with engraving if you like).
Score: 85/100