Interesting combo: a cask of peated Inchfad whisky (from Loch Lomond distillery), half of it matured in a bourbon hogshead while the other half was given an extra 6 months in a Pedro Ximénez octave cask.
The name Inchfad (which can be unpeated, lightly peated and heavily peated) is discontinued, which means this will probably be the only PX finished Inchfad ever.
Both were bottled by Claxton's for the 5th anniversary of the Malt Monkeys whisky club in Leuven, Belgium.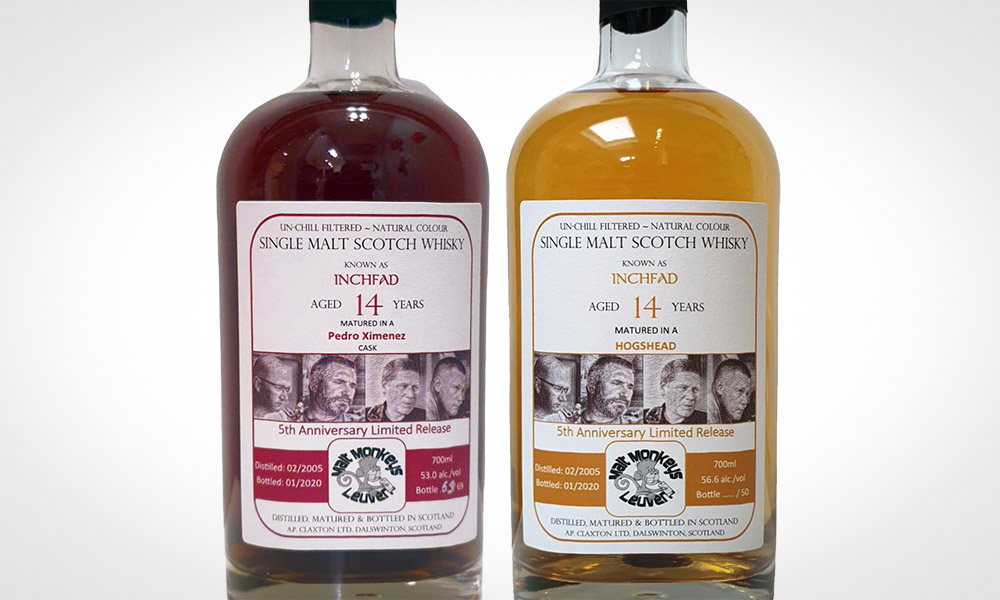 Inchfad 14 yo 2005 (56,6%, Claxton's for Malt Monkeys 2020, bourbon hogshead, 50 btl.)
Nose: not my style. Quite yeasty, with a lot of bread crust, porridge and some lactic notes. Caramel and subtle fruits after a while (overripe melon, citrus). Also light maritime notes (seaweed).
Mouth: better now. The peat is more prominent and while the nose was a bit bloated, it's fresher now. Tart lemons, with nice mineral notes and ginger. Still a bulky side, with a slightly dirty, vegetal edge. Some hessian and plenty of malted barley.
Finish: medium, sooty with medicinal touches.
Score: 80/100
Inchfad 14 yo 2005 (53%, Claxton's for Malt Monkeys 2020, Pedro Ximénez octave finish, 69 btl.)
Nose: rich PX notes, classic raisins and figs. Hints of cherry liqueur. It covers up most of what I disliked about the bourbon version. Some might say it's too much, this feels like a pressure cooked version, but nice enough, especially with the round vanilla note from the previous cask.
Mouth: malted barley and caramel against a backdrop of coal smoke. Cherries again. However the vegetal side and porridge notes are back. I'm afraid it started in arrears and the PX feels like a bandaid.
Finish: quite long, quite rich and clean, a nice finale.
Score: 84/100
Mixed results. The character of the original spirits was not very refined and a thick layer of PX goodness can't rescue it entirely. I'm still not sure about Loch Lomond, the fact that they make so many different styles (in so many different stills) means you're never sure what it's going to be.