While trying the new premium range from Benriach, I also had two single cask bottlings from the latest Batch 17. The first is a peated Benriach 2008 from a first-fill PX puncheon, the other a Benriach 1997 which spent 23 years in a virgin oak barrel.
Benriach 12 yo 2008 'Cask Edition' (60,5%, OB 2020, Pedro Ximénez puncheon #4052, Batch 17, 570 btl.)
Nose: the kind of musty cigar box / tobacco leaf combination that you sometimes got in first-fill PX Bowmore as well. Mossy notes. Worn leather, even some farmy touches (stable). Cinnamon cake, baked apples, nice brambles too. Oaxaca chocolate. Caramelized nuts.
Mouth: great depth of flavours, with lots of berry and raisin sweetness, although the leafy notes give it a tannic edge at the same time. Leathery notes again, then blackberries, clove and ginger. Plenty of (pipe) tobacco and a hint of Muscovado sugar.
Finish: long, with more of that brown sugar, mixed with lots of herbal notes and dark fruit tea.
Plenty of intensity, and the balance between peat and PX sweetness is spot on. Too bad for the slightly winey / tannic edge on the palate, otherwise a wonderful dram for a cold evening. Around € 140.
Benriach 23 yo 1997 'Cask Edition' (51,6%, OB 2020, virgin barrel #7420, Batch 17, 248 btl.)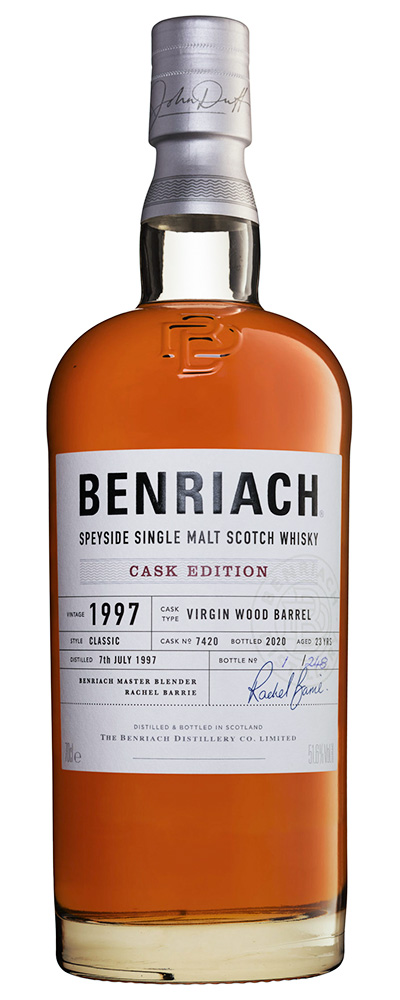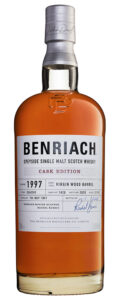 Nose: lots of fresh pencil shavings, a bit of glue and cooling peppermint. Dialed up fruitiness as well. Oranges, plenty of bananas, peach candy, membrillo, hints of cherry candy. Also coconut cream, subtle anise and pancake dough. A style with echoes of bourbon whiskey and grain whisky.
Mouth: really oaky again (of course) fighting with sugary fruits. Cloves, anise and white pepper, but not overpowering. The thick syrupy spirit does withstand the oak really well. Pineapple on syrup, mixed with coconut cream, menthol and hints of cedar.
Finish: long and minty, lots of spice and lots of sweetness as well.
To be honest I didn't think would work well, 23 years in a fresh virgin cask! However the wood isn't overpowering and manages to add lots of fruit candy and intensity at the same time. Not entirely my style, but like most drams in this tasting, it's exceeding expectations again. If you have a sweet tooth and don't mind a dose of fresh oak shavings (nor a heavy price tag), this one is for you. Around € 380.
Score: 87/100