A few days I ago I had the chance to try the new premium Benriach expressions, thanks to their Belgian importer The Nectar. The great Rachel Barrie guided us through the 21, 25 and 30 Year Old with the new minimal white labels.
Each of the expressions is matured in four wood types, in different proportions. There's always bourbon, sherry and virgin oak in the mix, supplemented by Bordeaux red wine casks for The Twenty One. For The Twenty Five they've used Madeira wine casks, and The Thirty is adding Port casks to the mix.
All of them include a portion of smoky whisky, maintaining the old traditions of Speyside distilleries to have a gentle smoky touch. Aged smoky whisky is getting rare these days and it's quite unique for Benriach to have (sufficient) stocks of old peated Speyside whisky.
Mind that the older expressions include pretty heavily peated spirit. For instance the whisky that went into the 30 Year Old was up to 45 ppm – that's pretty much Laphroaig level. Of course over time the phenols will change (not evaporate as most people think) and become less noticeable.
Benriach 21 Years 'The Twenty One' (46%, OB 2020)
Nose: ripe fruits, mainly dark berries and juicy apricots, some herbal honey, maybe Manuka and a gentle touch of wood smoke. Some vanilla – Rachel explained this is actually also a phenol, did you know? Also mulching autumn leaves. Nougat. Just some aromatic spice and pine freshness from the virgin oak, I guess.
Mouth: more of that smoky / eucalyptus / pine smoke going on now. Candied fruits with orange peel and a nice sweet and sour theme. Dark honey again, with hints of chocolate. Quite chewy, exceeding the 46% expectations. Over time baking spice comes rolling in alongside baked apples.
Finish: medium, with more fruity notes, vanilla and caramel.
This is already a great start. It's a complex dram with a great texture and lots of tiny nuances, with the gentle smoke as a real asset. Kind of the sweet spot between the old 21 Years (which was fruitier) and the 21 Years Temporis (which was smokier). Between € 140 and € 180 depending where you look. Recommended.
Score: 88/100
Benriach 25 Years 'The Twenty Five' (46%, OB 2020)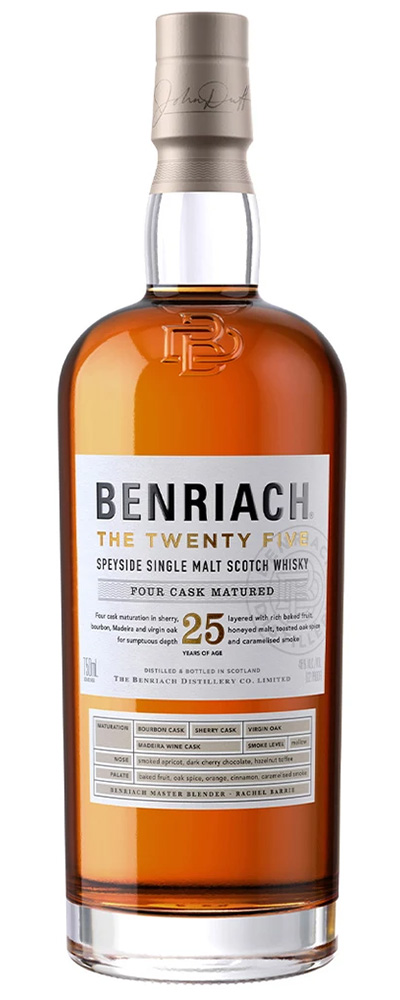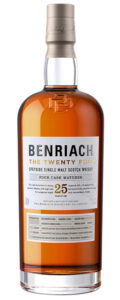 Nose: a rather earthy profile, in an elegant way. More sherry notes than in the Twenty One. Candy apples and plums. Hints of baked banana. A light peppery note. Then clearly more towards chocolate and old exotic wood, with less of the juicy fruitiness that I found in The Twelve. Smoke is very delicate here, or so it seems.
Mouth: starts on barbecued pineapple, alongside dried fruits. Sweet charred oak, a little vanilla and more baking spice. Crushed black peppercorns. Just a hint of lemons and blood orange. Burnt orange peel. More smoke now, not incredibly far from an old sherried Bowmore at times.
Finish: long and still rather earthy and spicy.
Although there's a lot of elegance to it, The Twenty Five has more of the charred character and (Madeira) wood spice. For me the typical fruity Benriach character fails to express itself entirely. By no means a bad dram though and still better than the old 25 Years. Between € 300 and 380 more or less.
Score: 87/100
Benriach 30 Years 'The Thirty' (46%, OB 2020)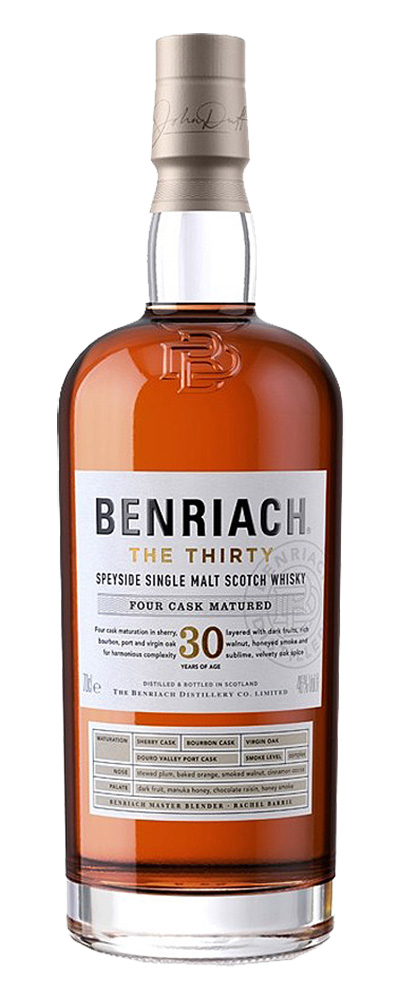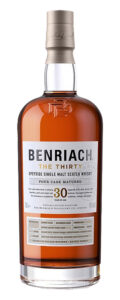 Nose: eucalyptus notes first, as well as a hint of glue or oil paint. Also a clear whiff of TDN (petrol) like you get in an aged Riesling. Quite special and really lovely, although it quickly evolves to heather and hints of smoky cedar. Leather. Some deep sticky toffee, raisins and caramelized nuts from the PX casks, but very much in the background here.
Mouth: more delicate and more austere than the 21 and 25. There are raisins and caramelized apples, but not as thick and sweet as you'd imagine. It's more on the leathery side, with cigar boxes and leafy notes, as well as a hint of woody sourness. Some floral heather notes. Candied ginger. Hints of chocolate in the end.
Finish: long, a tad drying, with some sour berries, wet tobacco leaves and a mildly smoky edge.
I adore the nose, which has some unique touches and a superb elegance to it. On the palate it feels much thinner than the others, with more leathery dryness. A really great profile. Expensive though: between € 650 and € 720 depending on the market.
Score: 90/100
To sum up, these are three really well composed whiskies. If anything the "four cask type" idea makes them multi-faceted whiskies with high complexity, while remaining easily drinkable as well. Both the 21 and 25 Years are better than their predecessors. Mission accomplished: Benriach should be on your radar again.