Both Maltbarn and The Whisky Agency had BenRiach matured in sherry casks in their latest series. Both are more or less the same age: one is a 1995 vintage with a lighter colour, the other one is a 1997 vintage with a darker tint.
BenRiach 23 yo 1997 (50,7%, The Whisky Agency 2020, sherry butt, 427 btl.)
Nose: quite sweet, on stewed fruits. Apricots, yellow plums, a little orange peel. Gooseberry tarts, maybe a hint of mango, hints of shortbread as well. Some fresh herbs in the background, as well as honey and hay. Quite rich, with an elegant sherry influence.
Mouth: a fruity start, on oranges, roasted pineapple and apple. Later this moves to marmalade, with some leafy notes, walnuts and slightly green, bitter herbs in the background. A fairly active cask, with clove and ginger in the end.
Finish: quite long, on old oak, nutmeg and some dried fruits.
The sherry cask is spot-on in my opinion, adding richness but leaving enough room for the fruity spirit. Oak is noticeable on the palate, but overall a really nice whisky. Still available in a lot of shops, between € 245 and € 285, depending on where you look.
BenRiach 25 yo 1995 (49,1%, Maltbarn 2020, sherry cask, 140 btl.)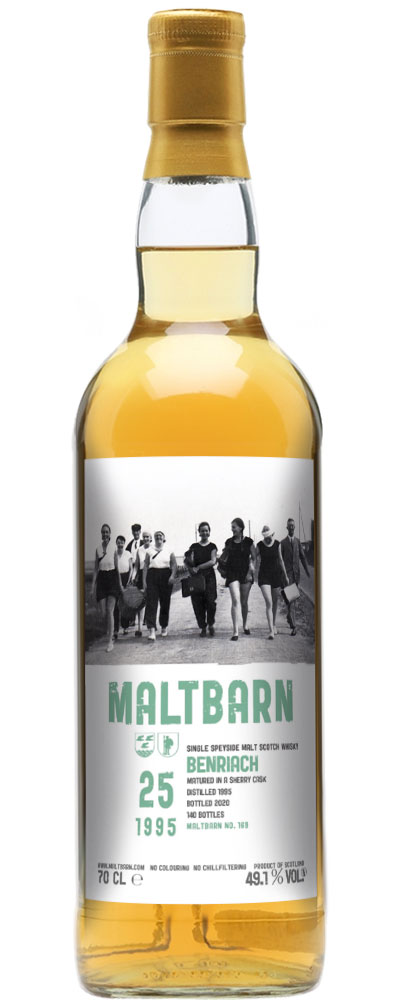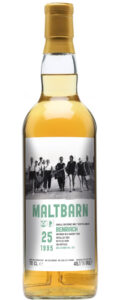 Nose: more narrow and less sherried. More shortbread, apples and gooseberries. There's a very light lactic note as well, like thick banana yoghurt. Brighter than the TWA expression, but also far less complex.
Mouth: sweeter now, with bananas and green melons, lemon candy and custard pastry. Then bags of yellow apples and cereal notes. Hints of fruit eau-de-vie, some ale as well. Honey. White gummi bears. Slightly greener and spicer towards the end.
Finish: medium, on lemon peels, light oak and a hint of rapeseed oil.
All fine, but fairly simple compared to the TWA bottling. With less sherry cask influence I was hoping for some tropical fruits maybe, but it's not the case. There were much better bottlings in this batch from Maltbarn. Around € 225.
Score: 86/100