Dramcatcher is a young independent bottler in Switzerland, the brainchild of Stephan Manfré and his friend Thomas.
So far they've released two bottlings, both secret whiskies. It's really a hype these days, you've gotta have secret stuff, but we're not applauding this evolution. There are some clues on the interwebz though. The grain may have been distilled at Cameronbridge, which was the first dedicated grain distillery in Scotland in 1824. The Irish single malt on the other hand is likely to be (double) distilled at Cooley distillery.
Secret Grain 43 yo 1976 (45,1%, Dramcatcher 2020, hogshead #940006, 60 btl.)
Nose: a mix of sugarcane juice, orange blossoms, pineapple cubes and light grassy touches. Sweet almonds and honey. Subtle herbal notes as well, like mint and rosemary. Wee notes of caraway seeds. It's quite fresh and also worth noting which aromas are not present, like the typical heavy vanilla, wood and glue. Well, just a little glue in the background.
Mouth: fairly lightweight, with more herbal notes (mint, gentian, juniper), a little citrus (grapefruit) as well as a slightly bitter, resinous side (wax / pine resin). Faint tropical fruits underneath (pineapple, tangerine) alongisde subtle coconut shavings. Again leaner than most other grains.
Finish: a bit short, with more grapefruit, oak spice and mineral freshness.
Quite pleasant and unexpected, more chiseled and herbal than other grains, lacking the typical creamy sweetness. For me that's an asset, even though complexity stays a bit on the low side. Available from their online shop for around € 185.
Secret Irish Single Malt 17 yo 2002 (48,7%, Dramcatcher 2020, barrel #11464, 60 btl.)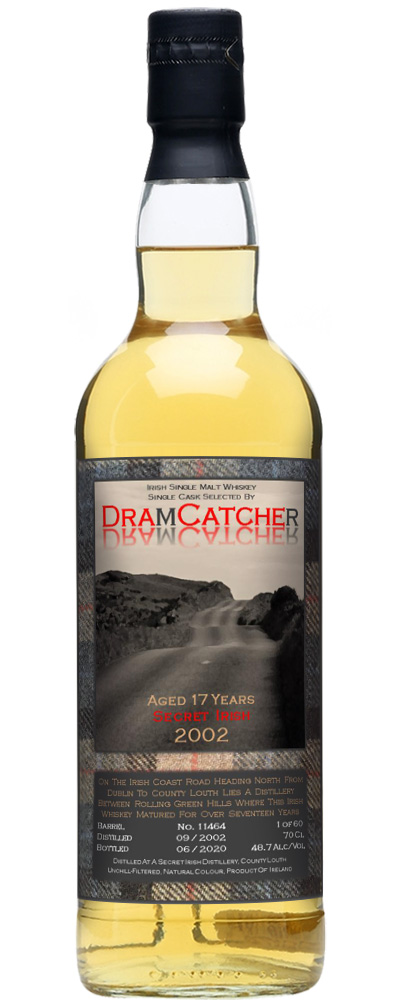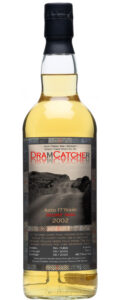 Nose: needs some time, lacking some fruits at first but opening up nicely. Green bananas, pears, lots of kiwis, later also ripe nectarines and riper bananas. Always mixed with grassy notes, a touch of vanilla and light whiffs of fennel.
Mouth: oh, more tropical now, with a combination of pineapple and mango, still a bit of kiwi, and lime. Really nice. Later some marzipan and floral honey comes along, as well as some hints of pot still spice (white pepper, aniseed).
Finish: medium long, still plenty of juicy fruits and Haribo sweets, fading with some grainy notes and spice.
A lovely Irish fruitiness, especially on the palate. The greener side is present but it's nicely balanced. Simply very drinkable whiskey. Also available from Dramcatcher direct for around € 150.
Score: 88/100