Jura is still a rather difficult brand. Official bottlings are often so-so (but improving if you ask me) and this seems to lower the interest for independent bottlings as well (which are often very interesting). We've had a few outstanding Jura 1990/1991 releases a while ago (Thompson Bros and WhiskySponge).
Today we're putting two recent Jura 1992 bottlings head-to-head, one from Maltbarn and the other in the Liquid Treasures range.
Isle of Jura 29 yo 1992 (47,3%, Maltbarn 2021, bourbon cask, 100 btl.)
Nose: rather naked, with a lot of paraffin and herbs, tart fruits, lemon peel and hints of salinity. Light chalky touches. Fresh mint and a touch of fragrant oak. Missing the warmth of some of the 1990 casks, but it becomes really bright and juicy, reminiscent of Ben Nevis in more than one way.
Mouth: really great. Sharp and tight, rather 'unmodern', now closer to Highlands names like Banff or Glenesk. I miss Banff. Lime and grapefruit, mineral notes, a series of herbs, maybe even a whiff of peat and salinity. Just a mustardy / wasabi edge too. Not very easy-going and slightly compact, but a great profile.
Finish: long, still a little narrow, with lemons, a light herbal bitterness and a faint metallic touch. I like it – heaps of character.
This is a vertical, chisseled profile that keeps the middle between the Highlands and the Islands. Nowadays everyone loves Ben Nevis, with a profile that's not far off, so these Jura casks definitely deserve more attention. Still available, according to the Maltbarn website?
Isle of Jura 28 yo 1992 (49,7%, Liquid Treasures 'Living World' 2020, bourbon barrel, 98 btl.)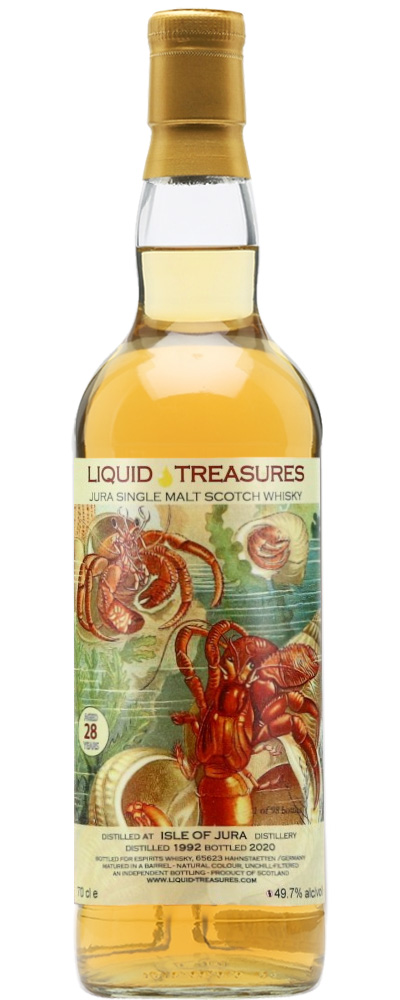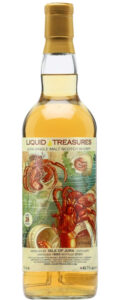 Nose: a lot richer, with banana pastry, vanilla and a slightly funny mix of marzipan, wood glue and dried rose petals. Sweet fruits and a minty kind of wood underneath. The uniqueness of the Jura spirit is hidden behind some oak here.
Mouth: there's a vaguely syrupy fruity side (mango / tangerine) mixed with camphor and echoes of old peat, some grassy olive oil and citrus bitterness. Resinous notes and minerals. Soft mentholated notes. I like this a lot.
Finish: long, still with fruity notes but also minty wood and light peat.
This one slowly convinced me. The nose seemed strangely aromatic after the Maltbarn cask, but this really shines on the palate. Resinous peat with syrupy fruits. Great selection, but sold out.
Score: 90/100