The Whisky Exchange has a long history of Signatory Vintage exclusives. They now have a brand-new Caol Ila 2010, something they already released before. These are notoriously dark refill sherry casks – I wonder what they were like the first time they were filled…
We're trying it head-to-head with a sister cask, also sourced from Signatory and recently selected by the Italian bloggers / bottlers Whisky Facile. Are you ready for a sherry rollercoaster?
Caol Ila 11 yo 2010 (58,2%, Signatory Vintage for The Whisky Exchange 2021, refill sherry butt #316662, 558 btl.)
Nose: a rather earthy profile. Plenty of tobacco notes and dark caramelized nuts, as well as some oak char. Hardwood polish. Deep sooty notes and exhaust fumes. After a while it gets rounder, showing leather, hints of wet wool, redcurrants and a little cough medicine. Some black cherries and chocolate too. Powerful stuff.
Mouth: really dark and intensely flavoured. Thick sooty notes, hints of burnt chocolate cake and plenty of barbecue ash. Black peppercorns and roasted chestnuts. Smoke meats and tobacco again. Sweet liqourice and treacle underneath, with just flashes of the classic Caol Ila lemons and some medicinal notes. It's not overdone in terms of wood spice, in fact it's surprisingly easy to drink, just really dark, earthy and rich.
Finish: long, with more ashes, black tea and chocolate, as well as a sweet peppery warmth.
This is a serious sherry bomb, with a heavyweight earthy, leafy and wintery character. A bit of a macho dram. Slightly mad even, but on the other hand it manages to keep some roundness. Exclusively available from The Whisky Exchange.
Caol Ila 11 yo 2010 'Nobody ever sailed past me' (58,1%, Whisky Facile 2021, refill sherry butt #316624, 515 btl.)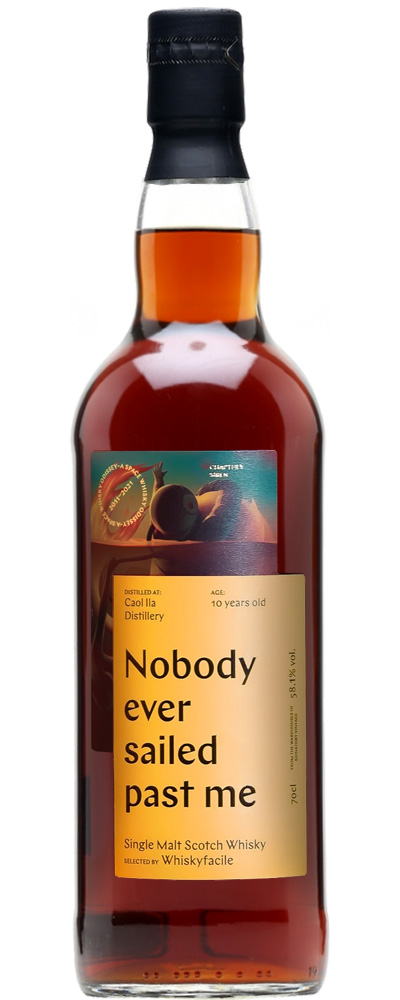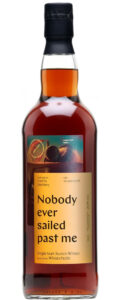 Nose: this shares the earthy, slightly rustic sherry profile. Plenty of tobacco and caramelized nuts, as well as lacquered meat, charcoal and unlit matchsticks. Some sour red fruits. Spiced Mexican chocolate. Plenty of umami notes.
Mouth: still quite massive, with thick smoke, a tarry hint, black peppercorns and more of this barbecued meat. Hoisin sauce. Rhubarb jam and plums. Then back to seaweed, bonfires and roasted chestnuts. Herbal notes. Chocolate. I get a tad more sulphur in this one than in the TWE bottling, but it's not the worst kind of sulphur, more the 'heavily charred cask' style.
Finish: long, meaty, ashy, charred, leathery and slightly lemony in the end.
Again, quite a massive sherry bottling that you won't sail past easily indeed. A heavy umami style with all kind of charred notes alongside coastal peat and red fruits. Still not for everyone, but a true experience nonetheless. Slightly cheaper, available from the Whisky Facile shop. Score: 87/100