It's time for some Tasmanian whisky… Shene distillery, half an hour North of Hobart, has been producing single malt whisky since 2015, switching to a higher gear in March 2021 when they presented a reworked core range. They proudly mill, mash, ferment, distill, mature and bottle on site, in a grand estate as you can see on their website. Part of their single malt is double distilled, but most of it is triple distilled.
Shene Elixir of Life is principally matured in small 20 Litre Apera casks (the Australian sherry-like oxidative wine) made by their own cooperage. After that the whisky is finished in Pedro Ximénez seasoned casks from Jerez. I believe they work with Williams & Humbert (and possibly others).
In October 2021 Shene was taken over by Lark, another Tasmanian whisky distillery. I have the impression they've been quite silent since then.
Shene Elixir of Life (49%, OB 2021, Pedro Ximénez finish)
Nose: a rich sherry nose, with opulent raisins, toffee sweetness, maple syrup and fig bread. Some brighter notes of orange peel. Leather. Copper coins, a wee balsamic note and cocoa. Hints of coffee and a matchstick note in the distance. A rich PX character with lots of depth.
Mouth: really winey now. While the nose was able to highlight the sugary sweetness, it's now more the punchy spirit and fresh (pine) wood that comes forward, including some tannins. Also hints of caramel, candy apples, leathery dryness and cocoa powder. It reminds me of a young Brandy de Jerez.
Finish: quite long, with a return to sweeter flavours like rum raisins and coffee liqueur.
The Elixir of Life spirit is probably quite young. Combined with the very active PX casks this gives a rich aroma but slightly pressure-cooked flavours with a lot of raw wood influence. Around AU$ 190 / € 120.
Like its sister, the Mackey Enigma is primarily aged in 20 litre Apera casks, but also  Tawny casks (the Australian version of a Port wine). It is then finished in Oloroso and Pedro Ximenez casks.
Shene Mackey Enigma (49%, OB 2021, Oloroso + PX finish)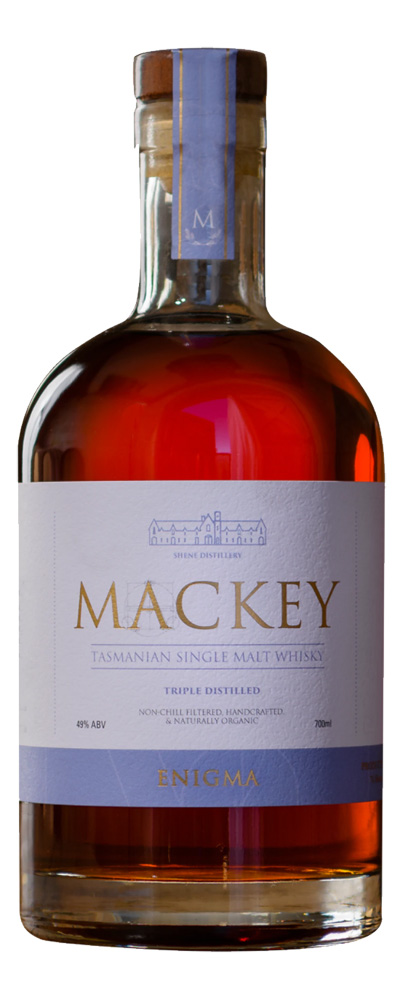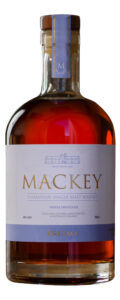 Nose: a little drier, with a tad more oak char and fresh oak shavings, getting a little plankish. Less of the coffee darkness underneath. More tart fruits this time, like redcurrants and blood orange. Rum and raisins. Still a coppery note and leather.
Mouth: this seems a little fruitier, perhaps because of the triple distillation. Lots of red berries, raspberry jam, oranges and a refreshing acidity. Here as well the darkest layer (chocolate, maple) is hardly noticeable. This also lets more room for the woody flavours, which are slightly dominant.
Finish: long, dry, on over-infused tea, blackberry leafs and some tannins.
This is essentially the same style as before, simply because there's so much Apera / sherry influence. If you prefer to have less PX sweetness and don't mind a heavy woody side, then this is the better one for you. I personally prefer the roundness of the Elixir of Life. Around AU$ 190 / € 120.
Score: 79/100