Michiel Wigman recently presented two new bottlings, both 2011 distillates. One is a Macduff in his They Inspired series which feature portraits of inspiring people by Hans Dilesse. Secondly there's a Secret Islay single malt matured in a Port barrique.
Macduff 2011 (52,3%, Michiel Wigman 'They Inspired' 2021, 194 btl.)
Nose: bready notes, sweet apples, hints of yellow plums and gooseberries, nicely mixed with some lamp oil and waxy touches. Gingerbread and nutmeg cookies. Wee coppery notes and worn leather. Herbal tea in the background. It's a fairly subtle and fairly earthy style of sherry.
Mouth: sweet and spicy, with riper, jammy fruits now. Oranges and raisins, hints of toffee. Walnuts and caramelized hazelnuts, with a good dose of tangy ginger and nutmeg again. Mid-palate it gets develops candle wax and leafy notes.
Finish: medium, still sweet and spicy, with some warming oak and a peppery glow.
A really autumnal whisky, with a sherry cask that brought sweetness and spices to the table. This is available for round € 130 from Wigman's Dutch Whisky Connection. That's a lot of money for a 10 year old expression from a hardly reputable distillery, but at least it feels a lot older and it's pleasantly unmodern. Above all interesting whisky.
Then onto a rosé whisky with a flashy colour… (more so than the picture suggests)
Secret Islay 2011 'East meets West' (53,3%, Michiel Wigman & The Malt Affair 2021, Port barrique, 200 btl.)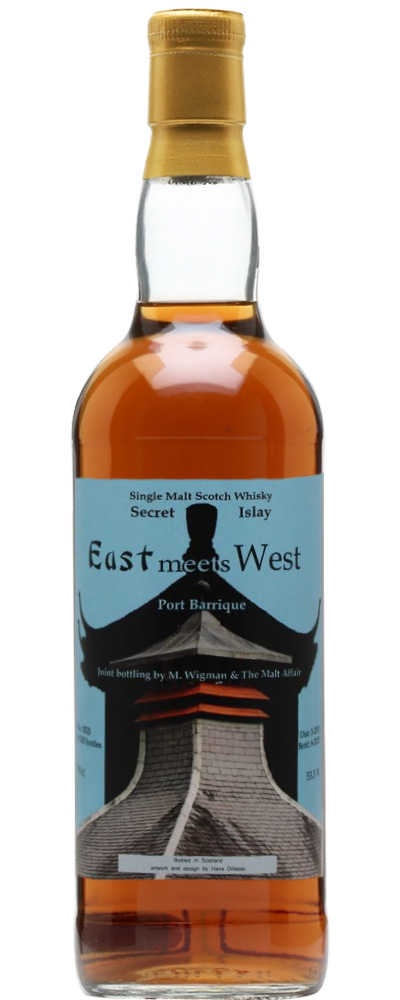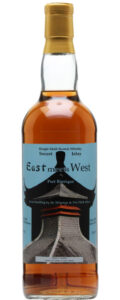 Nose: in fact yes, not as drowned in Port as the colour would suggest. Light hints of red (straw)berries and pomegranate but also citrus fruits. Then some dry peat smoke sets in, with leathery notes, seaweed, bacon and coastal sea breeze. Pharmacy notes and a firm mentholated oaky touch. Liquorice root.
Mouth: peppery oak and herbal notes at first, before moving to seaweed, brine and dry smoky notes. There's a hint of red fruit sweetness, but the medicinal and herbal side is definitely bigger. Perhaps slightly astringent at times. Aniseed, liquorice and cough syrup. Cold ashes. The sweetness and medicinal side don't seem to get along entirely.
Finish: medium length, with smoke, liquorice and a biting edge.
My worst fear with Port casks is that they take over entirely. While it's not the case here, I don't find the marriage entirely successful either. I expected more roundness from the wine so I was a bit surprised by the harsh edge. A slightly deviant Laphroaig perhaps? Score: 83/100