Three Viking whiskies from an undisclosed distillery on Orkney. The first two were distilled in 1999, a hogshead bottled by The Taste of Whisky in Poland and a Pedro Ximénez puncheon in Alistair Walker's Infrequent Flyers series.
On the other hand the third whisky is a very young bottling by Swell de Spirits, from a rare Palo Cortado octave cask.
Secret Orkney 22 yo 1999 (52%, The Taste of Whisky 2021, bourbon hogshead #15, 247 btl.)
Nose: a clean arrival on smoked pear, yellow apples and coastal notes. Lemon peels, damp chalk and seawater notes. Later it becomes slightly muddy and dusty but there's a rather candied, peach-y and honeyed note in the background too. Complex and really enjoyable.
Mouth: same multi-layered composition of chalk, oysters, salty / sandy notes,  grapefruits and green plums. Oily notes. Subtle peat smoke behind this and always a hint of sweetness to round off any austerity. Also green pepper and leafy notes, with a few drops of herbal liqueur.
Finish: long, earthy and spicy, with dried herbs, white pepper and more briney chalk.
Very solid Highland Park, with above average complexity, nicely balancing all expected markers. Great selection work. Consequently sold out, as far as I can tell?
Secret Orkney 4 yo 2017 (59,7%, Swell de Spirits 2021, first fill Palo Cortado octave finish, 80 btl.)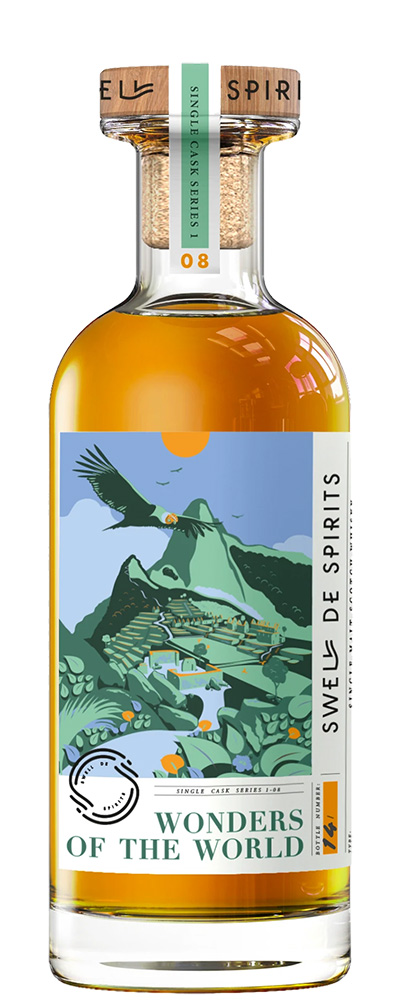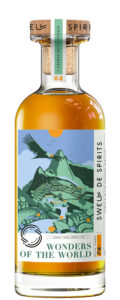 Nose: caramelly and buttery notes, lightly candied berries, alongside cake sweetness, brioche and polished leather. A meaty undertone, with some touches of fresh wood and burnt chainsaw marks.
Mouth: more caramel notes, toffee, with honey and some rubbery notes. Then plain woody notes (ginger, nutmeg, pepper) albeit meticulously masked by the sweetness. Still a sweet and savoury side that comes close to glazed onions, mixed with buttered wholegrain toast and latte.
Finish: medium length, almost entirely on spices and spiced bread.
I was really curious to try this one. In fact I tend to say Palo Cortado is my favourite style of sherry, and the resulting influence on whisky is often interesting. However in this case I will pass. This was a quickly seasoned cask, the whisky is too young and I'm not getting the essence of Palo Cortado at all. Score: 79/100
Secret Orkney Malt 21 yo 1999 (52%, Infrequent Flyers 2020, Pedro Ximénez Sherry puncheon finish #5743, 674 btl.)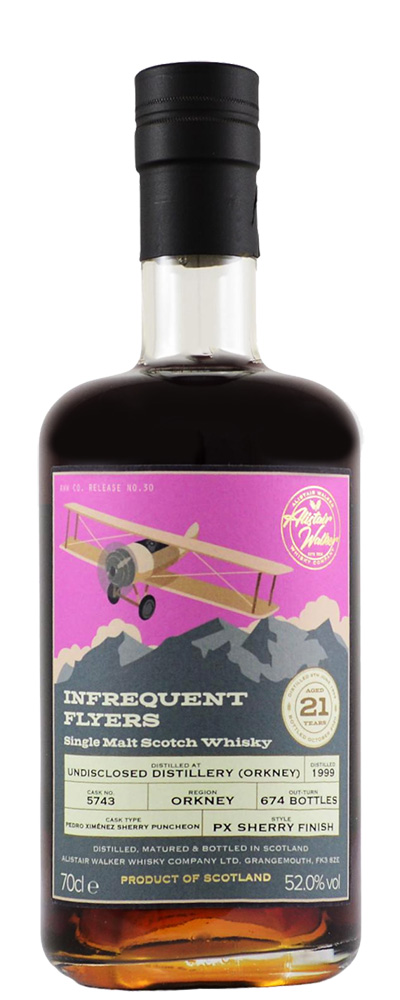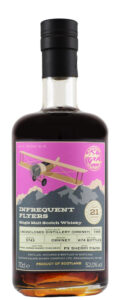 Nose: well-dosed Pedro Ximénez, entirely on raisins and figs, with brown sugar and caramelized nuts. Some earthy notes in the background. Later also red fruit candy and black peppercorns, as well as leafy notes and subtle herbs. Deeply sherried, but not overdone.
Mouth: slightly less classic now. Lots of dried Mediterranean herbs (thyme, oregano) with hints of cough syrup, dark treacle, Turkish coffee and even hint of Stout. Also hints of bitter chocolate. Subtle smoke. While it's definitely oaky, the dark sweetness keeps it in check.
Finish: long, earthy and spicy, still hints of heavy roast coffee and dark chocolate.
Not a subtle malt in any way, the PX is pretty 'in your face' and brings lots of coffee notes and sweet spice to the table. On the other hand it's rather balanced and doesn't have any problematic sides. Score: 87/100