I vividly remember the first Staoisha I ever had, a 4 year-old bottled for The Whisky Exchange. That's merely four years ago and back then we all thought 'how can you select such a young whisky to celebrate your 20th anniversary'? That heavily peated Bunnahabhain was really good though. Now regardless of their age (ultra-young or now simply quite young) they are rarely disappointing.
Today: three 2013 Staoishas bottled by Signatory Vintage (for Kirsch Import), The Whisky Jury and Whisky AGE in Taiwan.
Bunnahabhain Staoisha 9 yo 2013 (46%, Signatory Vintage for Germany 2023, first-fill Pinot Noir wine butt finish #10)
Nose: no disturbing wine in sight – me happy. It's all on bandages and tarry peat, with seawater and coal. Hints of car tyres, seaweed and wet moss. Light menthol and lemony notes. Then also a hint of bramble and sweet tobacco in the background – maybe some wine influence after all. Very good.
Mouth: sweeter now, with a spicy side and a winey footprint. Blackcurrants, green lemons, a hint of glazed chestnut. Then muddy notes, tarry peat and walnuts. Lightly bitter touches appear, like cloves and chicory. Salted almonds and herbal notes in the end.
Finish: long, deeply smoky, with liquorice, earthy notes and salt.
I was afraid of the wine, but that was unjustified. Overall this is a nicely thick, peaty whisky with some added sweetness. The standard ABV makes it highly drinkable (and keeps it below € 70). Still available in plenty of German shops.
Bunnahabhain Staoisha 9 yo 2013 (57,3%, The Whisky Jury 2023, refill bourbon #05079, 227 btl.)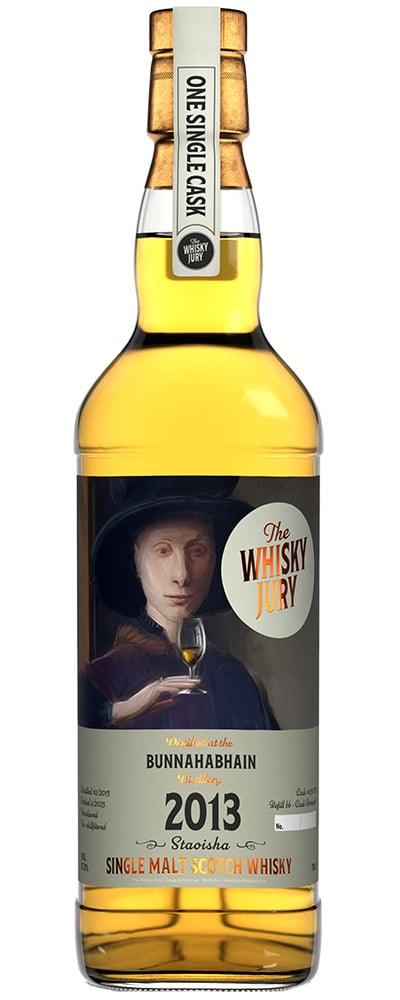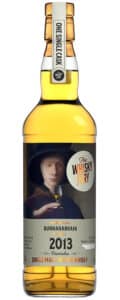 Nose: cleaner and fresher than the previous one. The medicinal side comes out more: antiseptics, iodine, spearmint, a little desinfectant. Subtle vanilla and smoked almond. Whiffs of green apple. Then raw wool and rather more on bicycle inner tubes this time.
Mouth: again very pure, with an oily texture and plenty of ashes. Lemony notes and salt, with faint biscuits, green pepper and a few grassy notes. The citric quality mixes nicely with the peat. A few green olives in brine. Hints of gin botanicals too.
Finish: long, on pepper, brine, lemon juice and a light chalky touch.
These ex-bourbon Staoishas may not offer huge complexity, but they definitely deserve to be bottled at this age already. Focused, rewarding whisky with heavy peat. Score: 87/100
Bunnahabhain Staoisha 8 yo 2013 (58,7%, Whisky AGE 2022, first-fill bourbon barrel #834, 230 btl.)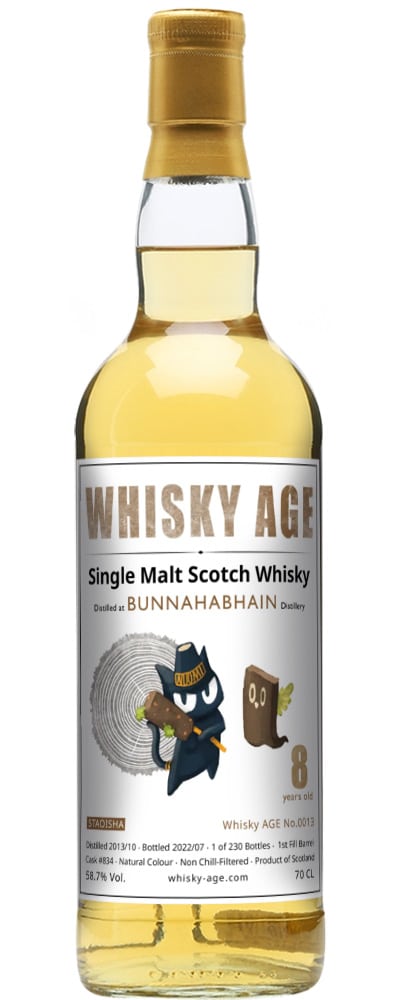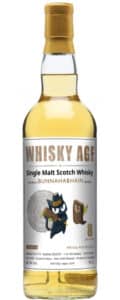 Nose: perhaps even more citrusy, but otherwise very similar to the Whisky Jury release. Iodine and sea spray, spearmint, almonds and soft vanilla. Slightly more apples / pears and chalk perhaps. Cardamom too. Crystal clear heavy peat.
Mouth: lively peat and coastal sharpness, obviously, but also a milder, rounder side. Gooseberries, a little honey sweetness and vanilla. A hint of pineapple acidity. White pepper and ashy / charred notes. Then plenty of brine, as well as some lemon peels. Herbal notes in the end.

Finish: long, with peatiness, apple sweetness and hints of smoked fish.
Complexity is just a tad higher here, although the deviation is very small in these three Staoishas. In the end the differences are too small to have a different score, but this would be my favourite. I believe this is still available, see Whisky AGE. Score: 87/100