These days you could start a Kirsch blog and only review their bottlings. The stream of bottlings seems to be endless and they seem to have a good nose for picking top casks from the brands they represent.
Today we're focusing on three Single Malts of Scotland releases exclusive to Kirsch Import. There's a Ben Nevis 2013 in the Reserve Casks range, followed by a Speyside Distillery 1995 and GlenAllachie 2011 in the regular range.
Ben Nevis 8 yo 2013 (48%, Single Malts of Scotland 'Reserve Cask' for Kirsch Import 2022)
Nose: a mix of bread crust, citrus and paraffin. Hints of concrete. Then also sweet mustard, walnuts, maybe white grapes as well. Atypical whisky, which means it's typical Ben Nevis. Nice enough, even though the youth is evident.
Mouth: a nice oily texture, with more lemons and lime, moving towards oranges and apples with a hint of caramel toffee. Hints of plaster again, mixing with sweet pears, barley syrup and hints of green tea. Then back to mineral oils. Perhaps a puff of smoke too.
Finish: quite long, with a curious mix of almonds and grapefruits, as well as earthy notes.
An intruiging style, with nice mineral notes and chalk, something bready and sweet. Even at a young age Ben Nevis has a unique charm. A rewarding dram and quite affordable as well. Readily available in German stores, check with Kirsch Import for more information.
Speyside Distillery 26 yo 1995 (52,3%, Single Malts of Scotland for Kirsch Import 2022, sherry butt #27, 390 btl.)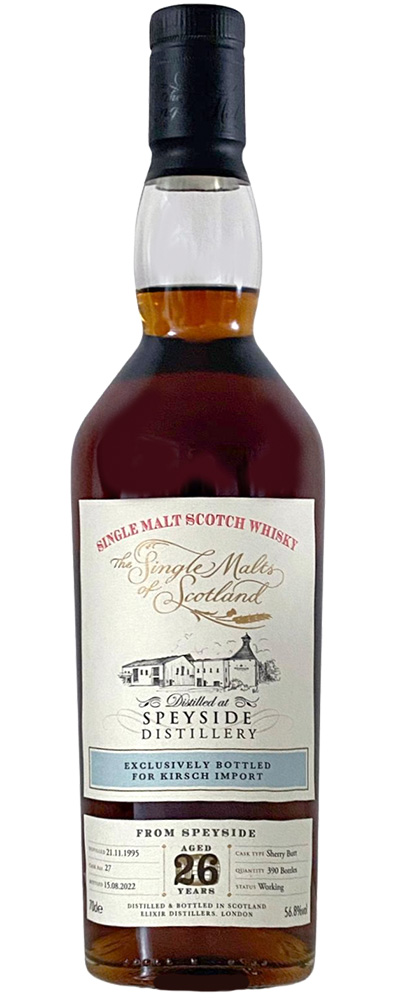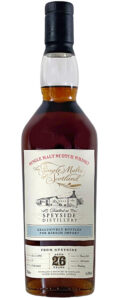 Nose: immediately seductive. This really smells like a sherry bodega with a proper Oloroso. Dark honey, raisins in rum, as well as hints of cherry liqueur. Then also leather and tobacco leaves, drops of mint tea. After a while whiffs of potpourri and even tropical fruit comes out (pink grapefruit). My kinda cask.
Mouth: starts nice but quickly becomes extractive now. You can still get the fruity sweetness (dates) but there's also a heavy herbal side, with hints of vermouth and bitters. Liquorice and black pepper. Then also a hint of burnt sugar and coffee dreg.
Finish: long, with more coffee, heavily infused herbal tea and marmalade.
There seems to be some disagreement as to whether this comes from Speyside distillery or from a Speyside distillery. Some claim it is a misprint, after all there is a drawing of Glenlossie on the label. Anyhow, I find this very characterful, with some original touches and plenty of oomph. Originally around € 150. Good value in my opinion but apparently people already emptied the shelves at most shops. Score: 90/100
Update: both Kirsch Import and Oliver Chilton from Elixir Distillers confirmed it was definitely made at THE Speyside distillery, with the wrong distillery image.
GlenAllachie 10 yo 2011 (59,7%, Single Malts of Scotland for Kirsch Import 2022, sherry butt #900222, 552 btl.)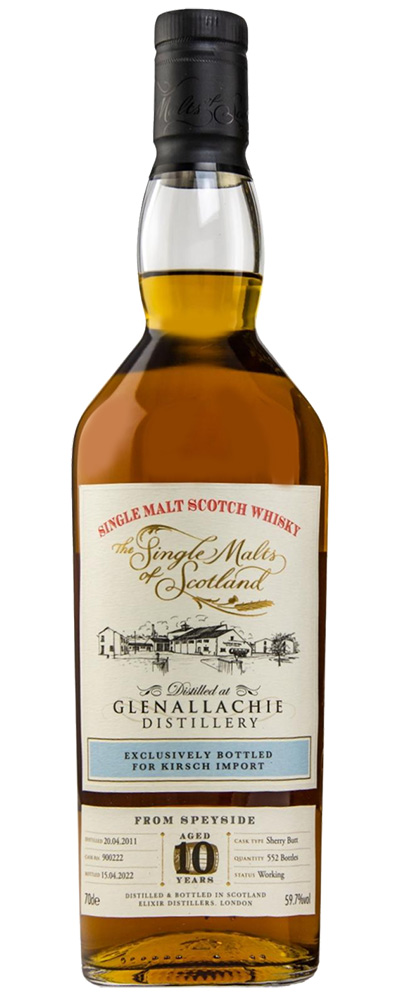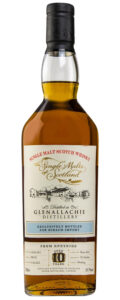 Nose: a lot of caramel at first, with a fair dose of alcohol and heather honey. Nutmeg and other wood spice comes later. Then also candied orange peels, peonies and poached pears. Hints of cherries too. Works well if you give it time.
Mouth: very malty now and still a bit alcoholic. Peppery notes and roasted nuts. Chocolate. Liquorice. Some bramble perhaps. Then more bready notes, fudge and more malty notes.
Finish: long, nutty and spicy. A bitter touch and ginger as well.
I really tried to pull this through. The nose is nice enough, but on the palate it stays a little rough and simple, with alcohol showing. It has a hard time after the other two. Score: 84/100