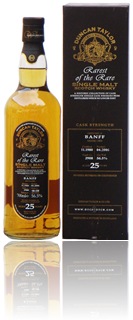 Except for the Banff 21y 1982 (Rare Malts), Banff never released an original expression. We should be thankful that several casks have found their way to independent bottlers (G&M, Douglas Laing…).
Banff 25y 1980 (56,5%, DT Rarest of the Rare 2006, cask #2908)
Apricot and frangipane on the nose. Cake, vanilla and grapefruit as well. Quite perfumy actually.

Mouth: a bit too alcoholic for my taste. Spicy with citrus notes, wood and delicate smoke. Creamy but not very complex. The finish contains both sweet and bitter components (orangettes, honey, grapefruit). A bit of wax here as well.
Wonderful, round nose, but the palate can't convince me, especially because the alcohol is rather dominant. There's better Banff to be found for € 160.
84/100.