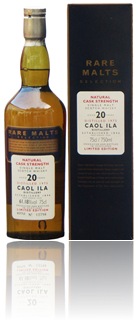 There are magnificent jewels in the Rare Malts collection from Diageo. Twelve years ago, this was the first Caol Ila release in the series. Information and tasting notes about this bottling are now very scarce.
Caol Ila 1975 20y (61,18%, RM 1996)
Nose: seaweed, peat, grassy notes, faintly medicinal. A touch of sweet apples. Not a lot of smoke here. With water: wax. Not exactly surprising for a Coal Ila, but still impressive and refined. Palate: hello smoke! Rather peppery. Overpowering attack, very robust. Spicy taste, liquorice and a sweet layer of honey. Finish on almonds, pear and chocolate. Slightly bitter notes as well. Very long.
Absolutely deserves 90/100.