This story starts a few months ago, when Glenfarclas collector and connoisseur Luc Timmermans poured me a dram from a sample bottle and told me it would be the successor of his rather legendary Glenfarclas 1968 cask #699, bottled last year. Luc is following the 1968 casks (his birth year) for a long time and it was clear that he had found another Glenfarclas gem, albeit with a rather heavy sherry influence. The former cask was very sensual and silky and to appreciate this new one you really had to be a sherry lover. Still I was looking forward to the bottling date.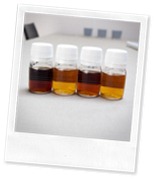 Then, a couple of weeks ago, I received four mystery samples with no further information. "One of them will be my next bottling", Luc said, "I'm considering different options again, let me know what you think". So I tasted them all and had two clear favourites.
Afterwards, it turned out to be a nifty selection (left to right in the picture):
The first sample had lots of chocolate truffle, dried figs, forest fruits, mint and walnuts. Very intense but not really subtle. It reminded me of the one I had tasted before and indeed, it was the same cask #702, a first fill Cream sherry hogshead (February 1968).
Sample n°2 clearly had a different maturation. It showed old roses, wax, precious wood and a whole range of herbs and spices (sage, thyme, cloves). This was just as intense but in another direction, with more obvious woody notes. It was drawn from cask #5240, a first fill Fino cask (which is not very common). Distilled December 1968.
The third sample was the most vivid one. It showed dried fruits as well as fresh red fruits, mixed with nice touches of oak polish and spices. After half an hour in the glass, this one really stood out. It was clearly the most balanced so far. Afterwards it turned out to be a vatting of the two others. One and one is three, no… four!
Finally there was a placebo: it was last year's cask #699. I didn't recognize it, but I discovered some new elements, which proves that it surely was a complex whisky.
No need to tell you that I preferred n°3 and n°4 in the blind tasting. Another great Glenfarclas was ready to be bottled!
The casks will be bottled as we speak, on this very day, and we can expect the bottles to be available soon. It's great to see that Glenfarclas was willing to modify the official Family Cask label and blend in the hand-written style of the other Thosop bottlings. Very clever!
Glenfarclas 41 yo 1968 (49,7%, OB 2010 for Thosop, cask #702 & 5240, 318 btl.)
Nose: the sweeter sherry is easy to notice, but it shows much more layers. There's a fresh layer of sweet fruits (mirabelles, redcurrant marmalade, lovely ripe tangerine and even raspberry jelly) and a darker layer of dried fruits (dates, raisins), chocolate and toffee. And a third layer of spices, oak polish, cigar boxes and some mint and eucalyptus. Just a hint of dusty oak and old leather book covers in the background. After some time it gets more playful, the fruits becomes bigger and the masculine side of the sherry makes place for a feminine softness and sweetness. A thrilling nose with awesome complexity.

Mouth: a firm attack. There are woody notes, prunes, lots of dark chocolate and some cold coffee. A few notes that remind me of a meat sauce with wine (must be the mix of sherry with the herbal elements). A little mint and soft pepper. Fig and blackcurrant jam. A tad less wide than on the nose but really impressive at this age.

Finish: long, drying, with lingering fruits.
In a way, this is like a richer, more powerful version of the official Glenfarclas 40yo: it shows different types of Glenfarclas style (with just two casks!), mixed together to create an even better result. Not nearly as elegant as last year's cask #699, but just as good in its own style. Now let's stop typing and simply enjoy…
Score: 93/100