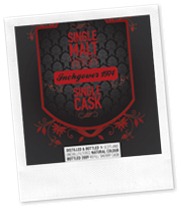 Inchgower is overlooked quite often, although it's one of the few distilleries with a continuous production since the opening in 1871 (expect for WW II). Apart from the Flora & Fauna bottling, they don't have regular releases; most of the production goes to the Bell's blend.
Recently there were a few 1974 Inchgowers by Dewar Rattray, Douglas Laing and Single Malts of Scotland. This one is bottled by Thosop Import, the distribution company behind Whiskysamples.eu.
Inchgower 35 yo 1974 (57%, Thosop Import 2009, refill sherry cask, 42 btl.)
Nose: warm and fruity. Lots of melon and kiwi. Apples. Quite some oak polish, sweet sawdust and paraffin. Big notes of vanilla and cinnamon. Leather. Honey. Hints of eucalyptus as well. Very subtle sherry, very fresh and fruity considering the age. Immensely complex really. Gets a bit more floral with a few drops of water.

Mouth: sweet start, quickly getting mentholated. More plain oak now. Pear. Grapefruit. Hints of camomile and mint. Big notes of cloves and ginger. Slightly chocolaty. Showing some herbal notes, strong green tea and liquorice towards the end. About the same with water.

Finish: drier, warm, spicy and oaky.
An Inchgower with a glorious nose that I sniffed maybe a hundred times before deciding to pour it. On the palate it's mostly the spicy wood extracts that do the talking. Only 42 bottles but I've heard a few are still available. Price: € 150.
Score: 90/100