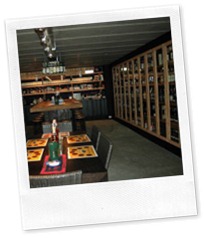 Former Malt Maniac Luc Timmermans is one of the most active whisky personalities in Belgium. He has practically built his house around his huge collection, sells extraordinary bottles on www.whiskysamples.eu and selects interesting casks for his label Thosop. Yesterday he organized a tasting to celebrate his 42nd birthday.
As expected, the line-up was impressive. All of these whiskies are extinct expressions:
Ambassador blend 25 yo (43%, OB – Taylor & Ferguson pre-1974)
Cardhu 12 yo (43%, OB – Wax & Vitale pre-1974)
Miltonduff 13 yo (43%, OB – Salengo Import 1970's)
Glenfarclas 42 yo 1966 (44,4%, SMWS 2008, 1.146, 76 btl.)
Caol Ila 1969 (54,6%, G&M for Meregalli 1986)
Longmorn 1969 (54,6%, G&M for The Whisky Fair 2008, cask #3724)
Ardbeg 18 yo 1974 (54,6%, Wilson & Morgan 1993, 285 btl.)
Without going into detail: awesome! Especially since the line-up was spiced up with a few comparison drams like the Ardbeg 1976/2002 cask #2390 or a legendary Springbank 12 yo for Samaroli which Whiskyfun scores 98/100. Thanks a million for sharing these beauties with us. I'll review a couple of them later, but here's one to start.
Glenfarclas 42 yo 1966 'Exotic Dusky Maiden' (44,4%, SMWS 2008, 1.146, 76 btl.)
Nose: hints of glue and wood polish. Pineapple candy. Passion fruits. Wonderful notes of marshmallow. It goes from Turkish rosewater delight to orange water and actual flowers (which is probably why they called it Dusky Maiden – a rose variety). A candy store really, but a few background notes of spicy oak and dusty books tell you this is older than it may seem. Very special.

Mouth: a rather oily mouthfeel, again very fruity with oranges and honey. The oak is also on the foreground now, with a spicy kick of cinnamon and ginger.

Finish: long, exotic and spicy. Very elegant.
Old Glenfarclas from a bourbon cask is not very common, but this is a unique example full of exotic fruits. The nose is on a higher level than the palate. Around € 200 at the time but sold out now.
Score: 92/100