In 2007, Glenmorangie reinvented itself as a distillery. The complete range was revised and redesigned, and they managed to release a few uncommon experiments.  First there was the 'designer cask' Glenmorangie Astar and later this Glenmorangie Signet.
Signet is a mixture of different types of malt. It uses some 20% of 'chocolate malt' (normally used to produce stout beer) and roasted barley which is dried at a higher temperature and roasted to a higher degree. It's also a mixture of different ages (up to 35 years old) and cask types (refill bourbon, 'virgin' new oak, sherry oak and wine barrels).
It comes in a beautiful bottle that's smoked at the top and gradually transparent towards the bottom. The lid of the box also serves as a plinth.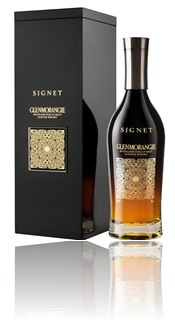 Glenmorangie Signet
(46%, OB 2008)
Nose: complex and perfumy. Reminds me of aftershave in a way. Armani Signet? Rather oaky. There are indications of oloroso casks (marmalade, raisins, chocolate), but also of new oak and bourbon (ginger, cinnamon). Hints of smoke, toasted bread and roasted coffee. Even some old glue. Very interesting.

Mouth: rich, with fruit cake, vanilla and chocolate. Lots of ginger and nutmeg and again some roasted flavours. Hints of tobacco. Walnut oil.

Finish: the wood is taking over, nutmeg again. Rather tannic. Spicy Mexican chocolate with a hint of lime.
Very different in style. It had to grow on me, but in the end I was really convinced of its qualities. Bonus point for the innovation. It was a limited edition but it's still available at around € 140.
Score: 88/100