After the first Inaugural release of Kilchoman, this new version was released a couple of weeks ago.
It has been matured for three years in first fill and refill bourbon casks bought from Buffalo Trace. After that, it was finished in oloroso butts for two and a half months and vatted with non-finished (ex-bourbon) Kilchoman. Kudos to the distillery for explaining precisely what's in the bottle.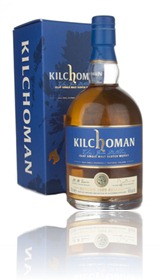 Kilchoman 3yo 2006 'Autumn 2009 release' (46%, OB 2009, 10.000 btl.)
Nose: starts in a similar way as the first release, but it doesn't take long before this one shows more fruit. Another (small) step away from the new-make notes. Firm peat and extinguished cigarette notes, but also more maritime hints this time. More pepper as well. Hints of black olives. Faint whiffs of cinnamon and caramelized ginger – the start of spicy notes developed by the wood! Interesting how it constantly switches from sweet to savoury flavours while swirling the glass.

Mouth: fat, oily peat. It doesn't seem to get much grip though, the attack of the Inaugural release seems stronger to me. Some sweeter notes, fading quickly and making way for a very dry bitterness that evolves to soapy notes in the aftertaste. A bit strange and not entirely my taste.

Finish: rather earthy peat with hints of nutmeg.
On the nose: perfectly enjoyable with an impressive mixture of sweet, candied notes and briney peat. On the palate, I felt disappointed with the soapiness as an off-note for me. Better than the Kilchoman 3yo Inaugural release, but no match for the Kilchoman single cask for LMdW. Around € 55.
Score: 79/100
Kilchoman 3yo
Inaugural release
– clear hints of new-make
– artificial fruitiness
– too ashy
– mono-dimensional
Kilchoman 3yo
Autumn release
– hardly any new-make notes
– pleasantly fruity and spicy
– too soapy
– more complex