Another sherried 1980's Port Ellen, tasted side-by-side with yesterday's Port Ellen PE1. One my fellow blogger Johan had a lot of trouble with, despite its solid reputation among reviewers (Whiskyfun 94/100)… a solid 92/100 at first, but a mere 75/100 a few months later. In his second tasting (from the same bottle by the way), he couldn't get over the sulphur notes. This should be interesting!
Port Ellen 21yo 1982
(50%, Douglas Laing OMC 2004, DL ref. 414, full sherry, 420 btl.)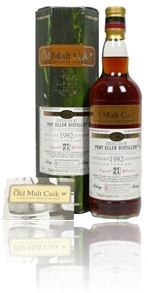 Nose: the sherry is just as bold as in the PE1, but this time the gunpowder and matchstick notes are much more prominent. I can see the sulphur but I wouldn't call this an off-note, it's more like a peated Karuizawa, if you know what I mean, with fire crackers and hints of rubber again. Nothing dirty for me. It lacks a bit of the chocolate fruitiness, although there is still some red fruit marmalade which gets bigger with a drop of water. Tobacco. Hints of meat sauce and balsamic vinegar, more so than in the PE1. Much more leather as well.

Mouth: interesting. The PE1 showed a big peat blast on the palate, but this Port Ellen stays quite elegant and soft. Some smoke, lots of herbal notes. Liquorice. Tobacco again. More fruit than PE1 (quite unexpected I must say). Never judge a dram only on the nose! Overall less punchy though, and less typically Islay.

Finish: medium length, nicely holding the middle between the smoke and the sherry.
In the end, it's clear this Douglas Laing version doesn't show the complexity and the juicy fruits of the PE1 version, but it's still a very good sherried Port Ellen in my eyes (if you don't mind the matchsticks). Extinct – it fetches around € 350 at auctions. Thanks for the opportunity, Johan!
Score: 89/100
ps/ This bottle was released (and reviewed by most people) before the wave of excellent Karuizawa bottlings we saw during the last few years. Maybe this Port Ellen was praised for being unique at that time, but if you're looking for notes of gunpowder and fresh matchsticks, I think Karuizawa does a better job (e.g. Karuizawa 1985/2009 cask 7017).