Port Ellen PE1 was talk of the town in 2009. It was highly sought after with exceptional prices in auctions. Its successor, Port Ellen PE2, was sold out in just around 24 hours, but the hype seemed a bit smaller afterwards.
With Port Ellen PE3 knocking on the door, it's time to review PE2.
Port Ellen Pe2
(59,5%, Elements of Islay 2010, 50 cl.)
Nose: starts on very dark chocolate and gunpowder. Notes of burnt wood that seem less strong in PE1. There's a sherried sweetness in the background, but it's not extremely fruity (no apples or raspberry like in PE1). Instead there's an organic / slightly dirty / damp side to it that I find a bit difficult to appreciate. Aged meat. A rather dominant smell of a tyre shop. Some tobacco and liquorice. Quite "dark" overall – PE1 seems fresher and more vibrant. Water highlights the sulphury matchsticks and mustiness.

Mouth: intense with coal smoke, soot and tar. The peat is nicely countered by cocoa sweetness and spices but again the fruitiness is buried deep inside. Chili and ginger. Grows drier and spicier over time, with added notes of liquorice. Water doesn't add much, it just gets less powerful.

Finish: medium length, rather sweet with hints of pepper and savoury meat sauce.
Sometimes it's a fine line… when tasting PE2 on its own, it seemed very similar to PE1, although I couldn't put my finger on the differences. After a direct comparison, it's clear that the successor is sweeter yet less fruity, with a slightly bigger focus on sulphury notes and rubber. Around € 140 at the time, now sold out (unless you want to pay much more).
Score: 89/100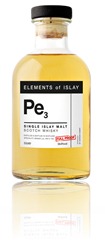 Port Ellen PE3
(54%, Elements of Islay 2010, 50 cl.)
The third heir in the PE family – PE3 –  has been announced. Judging by the colour, it will not be a sherry cask this time. It's safe to expect a completely different profile.
It will be bottled at 54% and sold for € 215,
a significant step up from the previous editions
(i.e. € 300 for 70cl – probably not far from the official Port Ellen 10th release). Keep an eye on the TWE or LMdW websites if you want to get this.