Mara is a special place for whisky enthousiasts. Founders Roland Puhl and Carsten Ehrlich are whisky legends and walking encyclopaedias.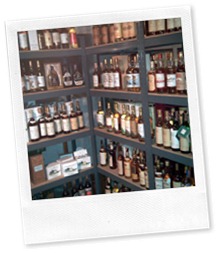 Their basement in the nice German town called Limburg an der Lahn is part whisky store (only classics, many of them not yet discovered by the whisky community), part "pilgrimage place" where whisky lovers from Germany (and further away) come to spend a nice evening. I was lucky enough to join Luc Timmermans (thanks again) so most of the time I was simply listening to what all these experienced connoisseurs had to say.
Most of the evening was filled with an extensive overview (and tasting) of Carsten's recent bottlings in the Whisky Agency series. It's amazing how many expressions he has released in the last couple of months. The tasting tempo was too high to take notes, but all I can say is they are all worth a try. Not one of them is below par, and some are absolutely stunning.
Here are just five of my personal highlights, in no particular order:
Glenallachie 39 yo 1971 (51,2%, Perfect Dram)
Not the most popular distillery. Very good albeit a little quirky. Fruity with old-style elements.
Brora 28 yo 1982 (52,3%, Perfect Dram)
All-round Brora with wax, smoke, citrus, herbs… Also available in a Daily Dram version.
BenRiach 34 yo 1975 (50,6%, cask 3061)
Classic 1970's BenRiach fruits, quite tropical and honeyed. A good match for the renowned 1976's.
Ben Nevis 42 yo 1968 (40%, Private Stock)
This can only come from Ben Nevis. Nougat, soft fruits, leather, wax… Stunning and very (very) limited.
Glen Scotia 38 yo 1972 (40,1%, Private Stock)
Old-style fruitiness, beehive notes and pleasant dust. A little soft on the palate maybe, but a unique expression.
All of these would score well into the 90's. The downside of the eminent quality is clear: the demand is extremely high and most of the Whisky Agency releases are sold out in a couple of days. Some of them don't even reach major retailers outside of Germany, and reviewing them doesn't make much sense – the advice will be too late anyway.
After the recent stuff and a lovely pizza (tradition, you know), we went into the cellars to crack open a few oldies. No matter how broad your whisky knowledge, a large part of the collection is unknown to anyone, so there's always some doubt about what to choose.
Port Ellen 11 yo 1981 Wilson & Morgan (stunning young Port Ellen, so different from current releases)
Longmorn 28 yo 1974 Scottish Castles (review coming soon)
Caperdonich 35yo 1972 for The Whisky Fair (excellent nose, very rich)
A head-to-head of two old Bowmore 8yo's (although apparently similar, they showed major differences – only one of them was convincing to me)
a 1970's bottling of Bunnahabhain 12yo
We ended the evening with an out-of-this-world dark sherry Islay whisky of which the name is top secret (sorry). It's a very old bottle anyway and chances are very low that another one would show up. Too bad, but good Lord, what a magnificent whisky!
I was told there are plans to sell most of the collection and close the cellar down. That's a logical decision given the time-consuming activities for Whisky Agency and The Whisky Fair, but it's still a important chapter that will disappear from our whisky book. I'm glad I was able to experience it.