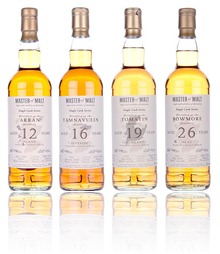 Master of Malt is an online whisky retailer with a proud heritage of over 25 years. As a web designer, I can assure you that their online shop is technically the most advanced whisky shop I've seen on the web. Their range may not be the largest, but prices are competitive and delivery is pretty fast, even to uncommon destinations.
Apart from their catalogue of regular whisky brands, they also have their own range of independent Master of Malt bottlings. Most of them are highly rated in the latest Whisky Bibles, which made me eager to review a selection of their offerings.
I'll be reviewing five Master of Malt bottlings: a Bowmore, Arran, Tomatin,  Tamnavulin and an undisclosed Speysider. In the meantime, have a look at their online shop.