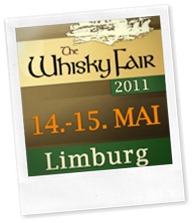 I'm off to the Whisky Fair this weekend. This is one of the highlights of the European whisky festival season, and it's the first time I'm going.
The Whisky Fair is unique for its combination of new releases and old rarities. Germany is an important whisky market so every distiller or bottler is present. Moreover there's an array of related events around town, like the barbecue in Villa Konthor.
I can only stay for the day, so I'll post some highlights on Sunday.