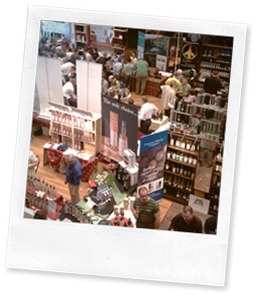 So it's all true. The Whisky Fair in Germany is probably the best whisky festival out there. Full stop.
It's even bigger than I expected, and the number of both newly launched bottles and legendary old stuff is impressive. The best thing is that I hardly saw standard supermarket whisky, this is a place where bottlers and retailers are working hard to impress their customer.
Here are a few of my highlights. I've brought home samples of most of these, so expect a full review in the near future:
Glen Keith 40 yo 1970 (47,9%, Malts of Scotland, cask #6041)
Lovely Glen Keith, check the TWA Landscapes version to get an idea. Too bad there were only a few whiskies available from the new MoS releases (like the two Caperdonich 1972 and the Glenrothes 1968). There was a new and interesting Strathisla 1970 though. 
Glenrothes 41 yo 1968 (43%, Duncan Taylor Peerless, cask #9974)
Very sophisticated. Duncan Taylor has some of the best old Glenrothes casks, and I've heard that a few were sold back to the distillery. Expect some (expensive) official releases in the future.
Strathisla 48 yo 1963 (51,8%, G&M Book of Kells for The Whisky Fair, first fill sherry cask #576)
This is truly unique whisky, which at times reminded me of a very old rum rather than an old whisky. I've heard some mixed reactions but I adore it.
Longmorn 44 yo 1966 (43,1%, G&M Book of Kells for The Whisky Fair, refill sherry cask #281)
Subtle sherry, needs some time to open up, but really beautiful.
Tomatin 45 yo 1966 (46,1%, Whisky Agency / The Nectar)
Nicely fruity, mixed with polished oak. Some say it's a tad too woody on the palate.
Inchgower 28 yo 1982 (56,6%, Whisky-Doris cask #6971)
A nice creamy Inchgower, not very typical but really surprising.

All of these new Whisky Agency / The Nectar / Daily Dram releases are very high quality by the way (Glen Keith 1970, Glenury Royal 1973…).
And then there was a whole bunch of old things. A great Longmorn 1969/1999 (DL OMC) at Mara's stand, a Saint Magdalene 1965 (G&M CC) from Bert Vuik, a 1920's blend from Berry Bros (thanks Magnus), a series of Moon Import bottles chez Diago Sandrin, etc.
Also worth noting was the Liquid Sun stand, a sister company of The Whisky Agency. Originally meant for Japan and Sweden, I've heard some rumours that their bottlings would come to Belgium in the near future.
As a final note, I was surprised to see so many Glenfarclas 175th Anniversary and Glenfiddich Snow Phoenix bottles being sold at different stands. They're far from being sold out.
On to next year!