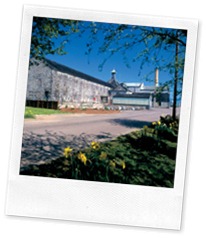 I should have written Knockdhu distillery of course (or Knock Dhu), but the name anCnoc is better known. Knockdhu is the distillery and anCnoc the name of the whisky. I believe it was introduced a couple of years ago to avoid confusion with Knockando.
Knockdhu, like many other distilleries, started as a typical farm distillery in 1893. There's still a kiln with malting floor on site, but it isn't used any more, as most of the plant is now fairly modern and highly energy-efficient.
In the near future, it will also be more ecological, thanks to the creation of a couple of ponds that will filter the different kinds of liquid residues of the distillery. Specific plants will make sure they are turned back into clear water. It's cost-saving and good for our planet, a win-win situation!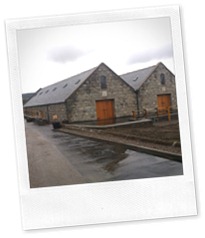 Two of their warehouses collapsed during the winter of 2010 and had to be knocked down completely. They've now been rebuilt in a traditional way (dunnage style, wooden structure), they look quite stunning and they're ready to be filled.
Distillery manager Gordon Bruce (always surrounded by his dogs Meg and Tosca) is a very dedicated man. He may seem a bit silent at first but once you get him started – especially on all kinds of technical bits and pieces – he'll happily give you every little detail you wanted to know.

Just like at Balblair distillery, more and more peated spirit is produced at Knockdhu, well over 25% this year. With the current single malt hype, Islay distilleries are increasingly reluctant to sell their newmake to third parties, and most blenders require a certain amount of peated spirit to spice up their products. Gordon wasn't very clear on this, but I think a peated anCnoc expression could see the light in the future (though maybe not the immediate future). We were able to try some peated cask samples (e.g. a heavily peated 5yo) and they were really good, too good to be blended away actually.
The best surprise was a sample of a 1982 bourbon cask, very fresh and full of gooseberries, coconut, honey-coated barley and ginger. Some vanilla and floral notes as well. Simply excellent.
A couple of days ago, the new anCnoc 35 years old expression was released, bottled at cask strength 44,3%, matured in both bourbon and sherry casks and available for around € 250. I've heard it's quite good, let's hope we'll be able to taste it in the near future.