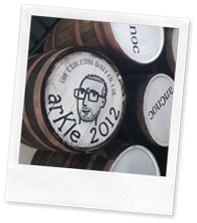 Another recent release from anCnoc is a limited edition designed by Peter Arkle, a Scottish illustrator based in New York. I think it's a great idea to invite an artist and to let him express his views on the brand. The resulting packaging is great: minimalist black & white with subtle orange accents.
The whisky itself is said to be between 6 and 12 years old and fully matured in sherry casks (Fino sherry), which is quite uncommon for anCnoc. It's available in the UK, USA and Sweden, plus "selected European markets".
anCnoc 'Peter Arkle'
(46%, OB 2012, ex-sherry casks, 6000 btl.)
Nose: rich with honey and sticky toffee as well as some nutty notes and burnt sugar. Not an overpowering type of sherry, which is good, but unfortunately it is also quite meaty and sulphury, something that is already present in the spirit and which is amplified by the casks.

Mouth: quite fruity, an apple / raisin combo, fruit cake and caramel. Hints of vanilla. Again a meaty / sulphury undertone.

Finish: medium long, with chocolate, toffee and spices.
Not a bad dram, but I was a little disappointed by the amplification of its innate sulphury character. It didn't seem to bother me that much in earlier expressions, but here it slightly crosses the line (for me personally). Around € 55.
Score: 79/100
ps/ Peter Arkle also designed an inverted tube (black background, white figures) which is used as a limited packaging for the standard 12 year-old in Sweden. I'll have that one!