Last night I headed to ** Michelin star restaurant De Pastorale for a special evening organised by Luc Timmermans. He presented his latest and sadly also last selection of Glenfarclas.
No need to tell you that Luc is a renowned Glenfarclas collector, that 1968 is Luc's birth year and that he has been monitoring the entire stock of this vintage very closely. You might want to read about his last few casks of Glenfarclas 1968 bottled in 2009, 2010 and 2011: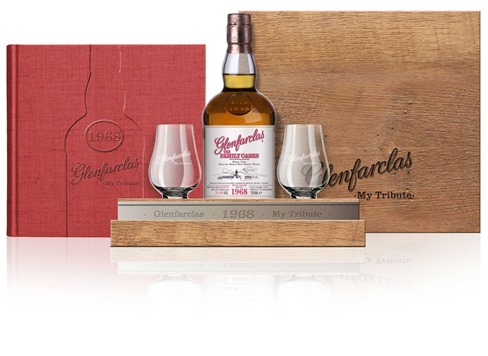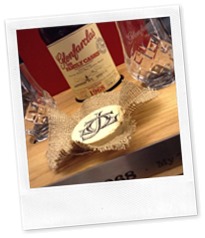 Now there's a final and very exclusive addition to this list, another single cask of Glenfarclas 1968, 44 years old, but this time supported by a set of presentation dinners, a handmade wooden presentation box including two crystal Glencairns, a bung, a 'My Tribute' book and a copy of the Glenfarclas history written by Ian Buxton. As Glenfarclas distillery is 175 years old, this was the perfect moment to present this 'My Tribute' bottling. As a remarkable coincidence, 175 bottles are available (let's hope Luc didn't have to drink half of the cask just to make this coincidence happen…).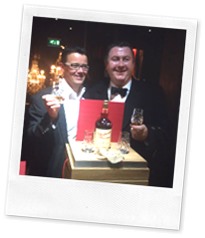 The Belgian 'My Tribute' dinner was a four course dinner, with each course accompanied by a suitable wine (I'm no wine connoisseur but this certainly opened my eyes, especially the Château d'Yquem 1998). In between the courses, there were short talks by George Grant, Ian Buxton and Luc Timmermans, accompanied by a few typical Glenfarclas whiskies: the underrated Glenfarclas 175th Anniversary, Glenfarclas 40 years (second batch already) and the Glenfarclas 1968 'My Tribute' as fireworks at the end.
Side note: the dessert was marinated pineapple with vanilla ice cream that had some of the Glenfarclas 1968 inside. Apparently chef De Pooter experimented with different whiskies and the result with the 1968 was simply too good. If you buy a bottle and you don't know what to do with it: try this recipe!

Glenfarclas 44 yo 1968 'My Tribute to the 175th Anniversary' (54,4%, OB Family Cask selected by Luc Timmermans, cask #5241, 175 btl.)
A proper review with my full tasting notes will come later (update: see here), but I can tell you the whisky was excellent. It is fresh, sherried but not too much, very elegant, with a perfect dose of fruits and oak spices. A perfect tribute to 175 years of classic Glenfarclas craftsmanship, with a hell of a lot of boxes ticked. It's accessible yet complex, predictable yet magical. An example of how a sherried Glenfarclas should be, or better still, a supreme example of how a sherried whisky should be.
The bottle is only available when you participate in one of the My Tribute Dinners around the world (still to come: Paris, Taipei, Singapore, Atlanta). In Belgium it was € 1750. Expensive but just compare it to the 1953 launched earlier this year, or other premium official bottlings and remember it encompasses an entire event, superb wines and great company. An event to remember!