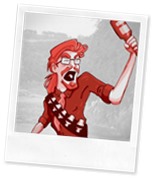 The Whisky Mercenary is the alter ego of Jürgen Vromans. Anyone familiar with the Belgian whisky scene will have seen him as a "mercenary" for other people: as a tasting host (BenRiach 1976 tasting for example) or as a helping hand at festival stands or in shops. He's also a founding member of the Cask Six whisky club.
Since a few months he's also active as an independent bottler, on a small scale so far but his experienced nose for good whisky has gained him a certain reliability already.
I'll start with his newest bottling, which is due to arrive in stores this weekend. Glenlossie is not the most obvious distillery…
Glenlossie 20 yo 1992
(57%, The Whisky Mercenary 2012)
Nose: a fresh nose, at first rather narrow with a malty side and a grassy side. Grows more complex after a while, more flowery and aromatic. Some vanilla and white fruits. Berries. Dried coconut flakes. Spicy oak. Ginger and mint. A clear waxiness too.

Mouth: a slightly bigger fruitiness now: apricot, oranges, lemon balm. Quite a big pepperiness too (chilli style even). Ginger again. Aniseed, mint and liquorice. Then a quick return to pineapple fruit gums before it fades on a walnut / green tea dryness.

Finish: medium long, spicy, still lots of pepper alongside a grassiness and a faint milk chocolate sweetness.
The nose needs some time but folds open very beautifully. Slightly younger and fresher than the age would suggest, with a slightly nervous and very spicy palate. An interesting release for a young bottler. Around € 80.
Score: 87/100