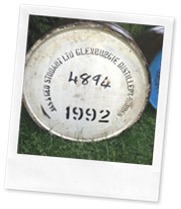 Tasting Fellows has just started as an independent bottler, with around seven releases so far, all medium-aged single casks.
We'll start with this Glenburgie 1992, a bottling that's sold out already. Later we'll also try the Caperdonich 1995 from their latest batch.
As far as I know, their bottlings are only available directly from tastingfellows.de. You should investigate shipping abroad, fellows!
Glenburgie 20 yo 1992
(55,6%, Tasting Fellows 2012,
bourbon barrel #4894, 179 btl.)
Nose: modern with a sweet barley core. A mix of pineapple sweets, apricot jam and honey. Corn flakes. Vanilla custard and hints of white chocolate.

Mouth: really sweet again with a thick, creamy texture. Pineapple, apple compote and pears. Different kinds of jelly beans. Banana again. Honey and plenty of vanilla. Hints of almond paste.

Finish: long, with more spices and green oak alongside the cake sweetness.
Quite a syrupy Glenburgie, with a modern character that's easy to enjoy despite the low complexity. For people with a sweet tooth. Around € 70.
Score: 86/100