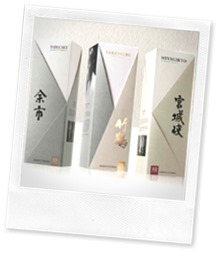 Miyagikyo Distillery, on the island of Honshu, near the city of Sendai, is the larger but lesser known distillery of the Nikka group, producing a mild and virtually unpeated malt. Its location was chosen for its high humidity levels, similar to those of Scotland.
Miyagikyo 15 years is the oldest version in the range, which consists of a NAS version, 10 years old, 12 years old and 15 years old.
As of 2012, all Nikka whiskies have a new origami-inspired packaging. The one I'm reviewing was an older bottling though.
Nikka Miyagikyo 15 yo
(45%, OB 2011)
Nose: baked apples with brown sugar, marzipan and candied orange. Gingerbread spices. It shows sweet cedar wood, with traces of sherry and traces of grain whisky as well (vanilla and a little wood glue).

Mouth: not too bold, but with a lot of wood influence now. There's a honey sweetness but also sharp tannins, grapefruit bitterness and some grassy notes that are quite loud. Walnuts. Evolves on herbal cough bonbons.

Finish: medium long, regaining some of its sweet creaminess now. Traces of salty liquorice in the very end.
Quite a nice, mild Japanese whisky, but the tangy wood notes on the palate are a little out of key with the smoothness on the nose. Prices tend to very between € 95 and € 110.
Score: 84/100