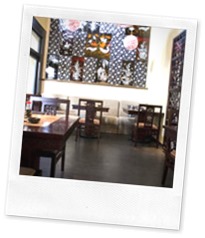 Oishii is not a bar per se but a New Style Japanese restaurant in Hasselt, Belgium (they originated in Germany where they also have a branch). Apart from high-quality (but slightly expensive) food, they also have an extensive list of Japanese whiskies available, all supplied by our Belgian importer / retailer The Nectar. They were probably also responsible for the excellent menu with concise tasting notes.
Among the cheapest options are a few blends like Hibiki 12 (€ 11) and Nikka All Malt (€ 9) or standard expressions like Yoichi 10 (€ 11). At the high end there's the great Yoichi 20 (€ 34) and several Hanyu expressions (€ 26 to € 40).
Quite remarkably, there were several (unopened) Karuizawa bottles in a cabinet right at the entrance, but these are not mentioned in the menu. The chef's personal collection? Or just a display by the distributor? Anyway I didn't ask as the standard list was interesting enough.
Also strange is that while the menu mentions prices for 2,5cl and 5cl drams, I wasn't asked for my preferred size, I was charged 5 cl and what's more, I swear I got less than that amount. Not so nice. The glass was okay, a Nikka-branded tulip shape without stem. No ice, no water either.
Location: Zuivelmarkt 21, Hasselt
Range: +/- 40, only Japanese
Price: € 9 to € 40 (for 5cl)
What I've had: Nikka Miyagikyo 15 years (€ 17)
Pros: wide Japanese selection, excellent menu with tasting notes
Cons: no Karuizawa on the menu, slightly dubious charging policy