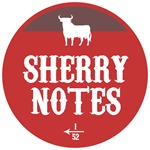 I quickly mentioned a new project when I was writing the whisky is dying article. That project is about sherry wines and it's called SherryNotes. The past few weeks, I have been posting on www.sherrynotes.com already.
The sherry market is in crisis. Sales continued downwards for years while other fortified wines like Port are still gaining ground. I'm not going to explore this topic in depth here, but there are a couple of reasons behind this problem. There's a lot of mediocre sherry, too sweet or too sharp, and this is the kind of sherry you'll find in most places. Most people think all sherry is like that, and they don't look further. There's also a huge lack of education, both towards consumers and towards restaurants – a lot of half-baked information is found. Last but not least, producers suffer from inertia – they've waited too long to move forward and they don't even commercialize their best products. Luckily, after some dark years, small signs of improvement are noticeable.
In 2008, Equipo Navazos started to sell its first public bottlings. Navazos is a small group of Spanish sherry lovers, and they can be described as the first independent bottler of sherry. They go out and hand-pick casks from different bodegas. Most of them are hidden gems and real eye-openers, but some bodegas don't realize the potential of their products. Developing a new premium segment in the sherry market is certainly a good thing – the best old sherries offer huge complexity and are still underpriced in comparison to other drinks.
Also, there is a recent movement within the sherry world towards unchill-filtering and preservation of natural colour. Most sherries – especially the lighter ones like Manzanilla and Fino – underwent heavy filtering and cold stabilization before bottling. Producers claimed consumers want stable wines with consistent and very light colour, especially in Manzanilla (the exact opposite of the E150 story in whisky, but similar pseudo-arguments). It should be applauded that (especially smaller) bodegas are realizing they are taking away much of the complexity and richness of their wines as well.
Related to this is the rise of en rama sherry releases. En rama means "on the vine" or figuratively "straight from the cask". Even standard sherries like Tio Pepe now get limited edition "en rama" versions that are much richer.
Single cask releases are also a recent development. Interesting for a drink that relies so heavily on the solera principle for its maturation.
Some of these evolutions can seem like a flash-back for whisky aficionados. The sherry world is lagging behind the whisky market in some respects, but it's certainly true that a revival is noticeable. If they focus on natural, high-quality products, I'm confident this will work.
Anyway, through SherryNotes I hope to spread the word that sherry is a wonderfully diverse product (bone-dry to ultrasweet). I'll introduce you to the better supermarket sherries but also to fabulous 100 year old wines. I'm also thinking of doing bottle shares, as the best sherry can be hard to get.
The posting schedule will be a lot slower (only a handful products are launched each year) and I will provide much more background information than I do on WhiskyNotes. In any case tasting notes are still my core business.
Have a quick look and let me know what you think. Here's one to get you started. Salud!
La Bota de Amontillado n°31 (20%, Equipo Navazos 2011, 50 cl.)
Nose: fragrant nose with brown candy sugar, baked banana and maple syrup up front. Fresh figs and toffee. Also beautiful notes of polished oak and a little turpentine, I love that. Leather and tobacco. Evolves on herbs (rosemary bread), olives, roasted nuts and blood oranges. Indeed the coastal notes are in the background here, but there are chamomile notes and chalky notes that give away its origins. Hints of ponzu sauce. Just great, very smooth and complex.

Mouth: very good grip. Dry and rich with nutty aromas as well as a powerful, refreshing acidity (ponzu again). Some roasted notes, and more saline notes as well. Fading on cashew nuts. Very long finish with an excellent sour edge.
A marvellous wine with a unique nose and a crisp, harmonious palate. Excellent with food or on its own. Quite possibly the best Amontillado I've had and a perfect example for the high quality of Equipo Navazos. Still available in some stores, e.g. La Maison du Whisky in France, Berry Bros. in the UK or Vila Viniteca in Spain. Around € 50 (50 cl.).