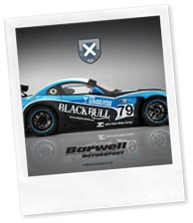 Duncan Taylor's Black Bull brand is sponsoring Ecurie Ecosse, a motor racing team with a great history that goes back to the 1950's. The team had a 2011 revival and will now be driving a BMW Z4 GT3 in the British GT championship and the Blancpain Endurance series.
To celebrate this sponsorship, they've launched a Black Bull Racer's Reserve, a 21 years old blend. Apparently the racers chose the whiskies, but the actual blending was left to the specialists at Duncan Taylor.
Black Bull 21 yo 'Racer's Reserve' (50%, Duncan Taylor 2013)
Nose: quite a neutral, half grainy / half citrusy nose. Nothing harsh, just lots of muesli and cereals. Stewed fruits and lemon peel. A little fresh oak and mint. Less sherry than we're used to seeing in Black Bull blends. Disappointingly generic.

Mouth: again a rather fresh but also slightly dull blend with hardly any sherry. Lots of oranges. Yellow raisins. Cinnamon and pepper from the oak. Faint toffee notes. Again a little mint. It's smooth and harmless.

Finish: medium long, a bit more spices. As expected.
You can't deny the fact that the Duncan Taylor team knows how to compose a blend and filter out the roughness of the grains. It's smoothly polished, but on the other hand nothing stands out either. It's just a normal blend which doesn't fit the dynamics of racing in any way. Bringing together two nice brands isn't enough to ask € 180. Only available from selected UK retailers.
Score: 75/100