We already tried Bowmore Small Batch with its accompanying chocolate made by Montezuma's.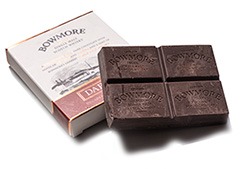 Bowmore 15 Year Old Darkest was released in 2007. I tried it back then and wasn't really impressed, as the sherry was not entirely fresh. But this is a totally different batch of course.
Bowmore Darkest is finished in Oloroso sherry casks for three years. It's also coloured with caramel to make it darker than it actually is.
Bowmore 15 yo 'Darkest'
(43%, OB 2013)
Nose: quite nice, a classic combination of smoke and sherry. Subtle smoky bonfire rather than heavy peat. The sherry is slightly bigger, I would say. Raisins, hints of coffee beans, caramelized nuts. Clean sherry, if slightly winey. Subtle coastal notes too.

Mouth: fruity, lots of berries and forest fruits. Sweet and sour. Leathery notes. Nuts and treacle. Also a slightly floral (not to say fragrant) hint, not quite FWP but you see where it comes from. Subtle smokiness again.

Finish: long, with tar and walnuts.
As for the chocolate, I have the same remarks as with Bowmore Small Batch. The chocolate is really nice, the combination is nice, but I wouldn't say it has special advantages over a standard dark chocolate bar. And the chocolate tends to overpower the whisky.
On its own, you should remember Bowmore Darkest is not all that dark, it's not as smoky as other Bowmore, much sweeter and there's a hint of violets on the palate. A fair entry-level sherried Islay whisky. Around € 50.
Score: 80/100