The latest superwhisky brought to us by Poland's investment company Wealth Solutions is a Glen Grant 1948, sourced from the Gordon & MacPhail stocks. It's a stunning 66 years old and bottled at cask strength.
The 160 decanters had already been sold before the presentation in May 2014, for an undisclosed (which probably means really high) amount.
Gordon & MacPhail, as one of Scotland's oldest independent bottlers, have always had long-standing contracts with major distilleries to buy new make and mature them either at the distillery, or more commonly in their own warehouses in Elgin. Their portfolio contains some of the oldest whiskies around.
Glen Grant is one of the few distilleries capable of presenting such extremely old whiskies, together with Glenfarclas, Glenlivet, Macallan, Dalmore and maybe a couple of others. In any case it will be the oldest whisky we've been able to try so far.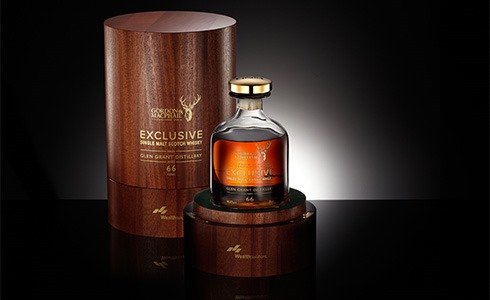 Glen Grant 66 yo 1948 (46,6%, Gordon & MacPhail for WealthSolutions 2014, first fill sherry butt #1369, 160 btl.)
Nose: smoother, richer and sweeter than expected. It's quite subtle, very much bound together, but really exquisite. Lots of oily notes: precious old woods, hints of teak oil and eucalyptus. Soft fruity notes, like apples and orange blossom honey. Bergamot. Beeswax. Apricot jam. The polished oak is always there, but in a striking harmony. Lots of fresh mint. Faint toasted / smoky notes, almost hidden in the background.

Mouth: almost immediately a gentle peppery heat coats the palate. Softly spicy rather than oaky. Huge notes of pipe tobacco and cigar boxes. Herbal tea. Still hints of bergamot oils and apricots. Cardamom and walnuts. Mint and eucalyptus. More savoury than the nose. Earl Grey tea. Soft resin. Some toasted notes in the background.

Finish: very long echoes of the spice mix, with a little liquorice and menthol.
Of course it's oaky – but that doesn't mean it's dry or tannic. It's a polished, exotic oakiness that works well alongside the rounder notes. I think the nose is delicious and the sappy palate surprisingly balanced. Even if you've tried 30 or 40 years old whiskies, this is hardly comparable. It's a different drink, a different experience altogether and a style on its own.
Score: 94/100