To be honest I lost track of all these Highland Park expressions named after Norse gods, so I had to look up the specific details of Highland Park Sigurd.
Below is a diagram of the Warrior series. While the first three releases (Svein, Einar, Harald) revolved around American oak casks, the most recent offerings (Sigurd, Ragnvald and Thorfinn) use an increased quantity of European oak sherry seasoned casks.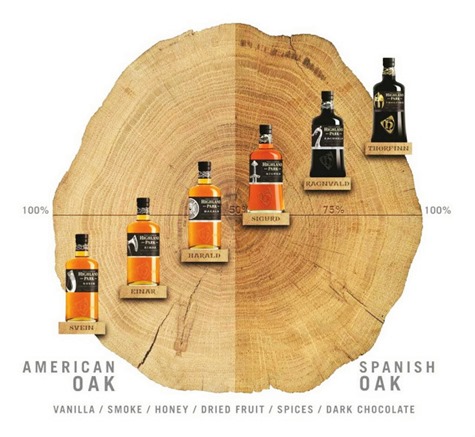 Highland Park Sigurd (43%, OB 2013)
Nose: a complex, very refined nose, with plenty of layers and no dominating aromas. Moss, dried grasses and eucalyptus oils. Ginger and cinnamon. Light fruity notes (apples, melons) and a soft smoky overtone.

Mouth: oily texture and a salty attack. Dutch liquorice. Honey sweetness underneath, as well as a hint of vanilla custard. Plenty of spices: nutmeg, pepper and ginseng. Becomes oaky and sappy as time goes by, with a smoky edge.

Finish: soft, with the oaky notes building and just vague shadows of the fruit. Honeyed tea.
I really liked the delicate, almost soft but nonetheless complex nose. The palate was a little less smooth and had some loud oak. Really nice but expensive, around € 150.
Score: 87/100