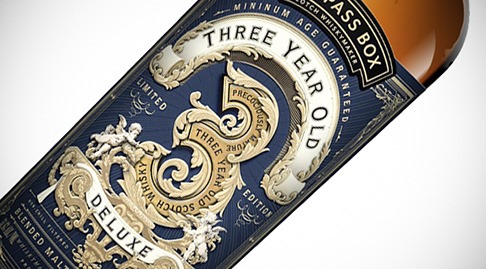 In times when distilleries are hiding the age of their whiskies because they fear consumers would think the price is not justified, artisan whisky creator Compass Box adds a couple of litres of 3 years old whisky to an otherwise old blended malt. They prominently name it 3 Year Old Deluxe and thus probably create the most expensive 3 year-old in the history of Scotch whisky.
Is that a middle finger or what? And beautiful PR as well. It's sad that some people were appalled by the price and didn't get the joke…
They are not legally allowed to disclose the recipe on the labels, but they are allowed to tell us directly if we ask for the details. Over 90% is actually medium-aged Clynelish from refill hogsheads, with some lightly peated Talisker from first-fill sherry butt and under 1% of three years old Clynelish from first-fill barrels.
Three Year Old Deluxe (49,2%, Compass Box 2016, blended malt, 3282 btl.)
Nose: immediately waxy and recognizable. It shows big notes of orange blossom honey and sweet baked apples and ripe yellow plums. There is a very light hint of peat in the background, which brings it close to some of the latest Brora expressions (which were closer to Clynelish sometimes, if you know what I mean). Just a hint of creamy vanilla and cinnamon pastry. Deluxe indeed.

Mouth: good mix of dry and fruity notes. Orchard fruits again (apples, greengages) but also light tropical touches (grapefruit, tangerine), balanced by some mineral notes and a dry grassiness. Pepper and clove, just a hint of vanilla and fresh oak shavings, perhaps a tad younger than expected? Not exactly peaty, but there's an ashy side to it.

Finish: more bitterness of the grapefruit and waxy lemons now, rather zesty with the riper fruits and oak spices in the very end.
Beautifully composed again. I really love the idea of combining middle-aged Clynelish with Talisker and recreate Brora from its final years, in a way. Around € 240.
Score: 90/100