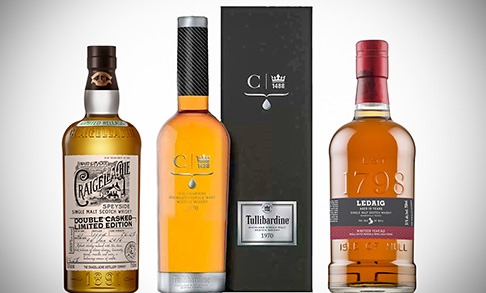 Craigellachie will soon launch a Double Casked Limited Edition, a 21 years old whisky, distilled in 1994 and bottled at cask strength 56,2%. Not much details about the cask are given on the label, but should be a robust whisky, lusciously spiced, with vanilla and aniseed, imbued with the richness of Oloroso sherry. Only 456 bottles are available.
Tullibardine launched a 44 years old 1970 vintage in the Custodians Collection. It is bottled at 40,3% (supposedly cask strength) and only 400 bottles are available. It is composed from two sherry hogsheads, both first- and second-fill and costs around € 1000.
Ledaig seems to be working on a Ledaig 19 Year Old. It is matured in traditional oak and finished in Marsala casks. Bottled at 51%. Not sure whether this will replace the 18 Year Old finished in sherry casks.
Then there's also confirmation for the imminent launch of Ardbeg An Oa, a fourth expression in the core range, named after the Oa peninsula near Port Ellen. Update: see the details of Ardbeg An Oa.