The other day I was part of a Tweet Tasting organised by The Whisky Wire. Always a nice opportunity to get acquainted with some of the offerings of a distillery, in this case Glen Moray. I have to say I had tried some excellent 1950s–1960s–1970s Glen Moray but none of their recent production.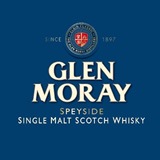 Glen Moray distillery is located in Speyside, in the outskirts of Elgin. When started in 1828 it was originally a brewery, but it was converted in 1897. It was part of the Glenmorangie / LVMH group and sold to La Martiniquaise in 2008, which deployed a massive expansion programme. Glen Moray is now one of the larger distilleries in Speyside and a driving force behind the Label 5 and Glen Turner blends.
First up was the Glen Moray Peated, one of the Elgin Classic expressions (without age statement). It is made in a gently peated style (14 ppm phenols in the malt). It is matured in ex-bourbon barrels. You'd say starting a tasting with a peated whisky is tricky, but it worked nicely.
Glen Moray Classic Peated
(40%, OB 2016)
Nose: quite clean and basic. Sweet smoke with plenty of vanilla behind it. Cake with lemon icing. Soft herbal and leathery touches. Also orchard fruits like peaches and pears. Subtle floral hints too.

Mouth: quite light again, with a young profile. Light peat, some mentholated notes and vanilla. A little gin-like juniper as well. Vanilla.

Finish: not too long, sweet and smoky, with some liquorice and ashes.
Rather light, young and undemanding. I can imagine this works well as a blend beater, but they have much better expressions higher up the line. Quite a steal at € 25-30.
Score: 78/100
Another Elgin Classic: Glen Moray Sherry Cask Finish. This is finished in repaired Oloroso casks from a cooperage in Jerez.
Glen Moray Classic Sherry Cask finish
(40%, OB 2016)
Nose: again a light profile, but nicer this time, with lots of stewed apples, red berries and hints of raisins. Raspberries and candied orange peel. Underneath there is still the classic vanilla sponge cake and honey from the first maturation – nicely balanced. A modern style, sweet and vanilla'd, with just a slight touch of rubber.

Mouth: light but nice. Bags of wine gums, toffee and nutty notes. Vanilla. Then some liquorice and chocolate with hints of cinnamon and brown sugar. Overall it has a bit of a mulled wine feel to it.

Finish: medium long, more spices and liquorice, but still a little light on its feet.
Still an entry-level bottling, with a light character but lots of nice, vibrant flavours already. Very good value for money. Similar price: € 25-30.
Score: 83/100
Next up was an expression from the Elgin Heritage series, a new name for the core range. Since the August 2016 restructuring, this series holds three aged expressions and Glen Moray 15 Year Old sits in the the middle between the 12yo and 18yo. It is matured in a combination of ex-bourbon and ex-sherry casks and replaces the old Glen Moray 16 Year Old.
Glen Moray 15 yo (40%, OB 2016)
Nose: quite neutral but very juicy, with less sherry than in the Sherry Cask Finish. Barley, golden raisins, honey and boiled sweets. Hints of strawberry and candied oranges. Some vanilla custard as well. Pretty much a classic, light Speyside profile.

Mouth: sweet peaches at first, then butter toffee and growing spices (mellow pepper, candied ginger). Subtle tobacco and dark chocolate dryness. A more mature profile with more oak influence as well.

Finish: rather short, but quite rich, with more spices.
Whereas the two previous expressions focused on one set of flavours, this 15 Year Old finds a nice balance between different elements, including a more prominent oaky side. Could have been even better with a slightly higher ABV. Around € 50. Available from The Whisky Exchange for instance.
Score: 83/100
In a second part we'll review two distillery exclusives: the Glen Moray 1994 Sherry Cask finish and the brand-new Glen Moray 2006 Cider Cask finish.