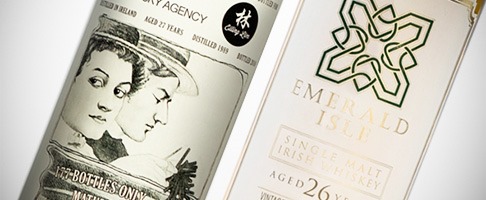 Among the many independent Irish single malts that I've tried the past few years, there have been a lot of 1988 and 1991 casks but only one 1989 so far. Now there are two more.
One is a brand-new bottling from The Whisky Agency, a joint bottling with Eiling Lim. The other one is from the outstanding Emerald Isle series from Speciality Drinks / The Whisky Exchange. Highly respected bottlers – this should be interesting!
Irish single malt 27 yo 1989
(45%, The Whisky Agency & Eiling Lim 2016, barrel, 177 btl.)
Nose: classic Limerick style. Passion fruits, mango cake, banana, papaya. A very fresh fruit salad. Hints of lime blossom. Very subtle bergamot and slightly greener, minty touches. A fruit bomb that's all about freshness and brightness – very seductive.

Mouth: more fruit juice (passion fruits, lime, banana, kiwi) – kind of a summery white wine feeling. Evolves more towards fruit teas, with a light greenness. More towards grapefruits as well.

Finish: rather long. Never change a winning horse. A bit more oak now.
This is one of these Irish fruit bombs with lower complexity but higher sexiness. After all these kind of tropical fruits (à la Bowmore 1968, Caperdonich 1972, Tomatin 1976…) are still a Holy Grail for many whisky lovers (including the one writing this). Around € 310, a few bottles left, if I'm not mistaken.
Score: 92/100
Emerald Isle 26 yo 1989 (59,2%, Speciality Drinks 2016, cask #16244)
Nose: the higher strength makes this one come across much woodier. It also sets off on coconut and vanilla, with some clear references to aged grain whisky or a good bourbon actually. That means it is less emphatically tropical, but warmer and very jammy. Strawberries and cream. Cooked apricots. Cantaloupe. Hints of marshmallow and blackcurrant. Very light herbal notes after a while. Excellent.

Mouth: much warmer and more wood-driven at first. Mint and grassy notes, even chervil and herbs. Oak polish. Hints of honey, perhaps maple. Then a big burst of tropical notes: guave, pink grapefruit, mango. The fruity notes are less juicy, more liqueur-like in this case. Different, slightly unexpected. With some water, the passion fruits and limes come out, but the polished oaky side stays strong.

Finish: very long, creamy, with warming oak, perhaps a little tobacco and almonds.
This one is more complex, more woody (in a positive way), more of a cross-over too. I wouldn't be surprised if it were a rum cask like the one from The Nectar. In any case I've had more than 20 of these independent undisclosed Irish whiskeys now and I can say this is quite unique and interestingly different. Around € 240 (taking advantage of the weak pound). Available from TWE.
Score: 93/100