A quick look at some of the upcoming releases that were announced the past few days.
Redbreast Sherry Finish 'Lustau Edition' (46%). We already knew that Lustau, one of the leading sherry bodegas, was seasoning casks for Irish Distillers (through the A. Páez Lobato cooperage), but we thought they would be used for Jameson. Now it turns out a new Redbreast NAS was finished in these casks.
They used "Spanish oak" (a bit misleading, I'm quite sure I saw Quercus Alba with the JJ&S mark in pictures) seasoned with very young Oloroso sherry for two years. After that, the casks were filled with Redbreast whiskey that had previously been matured in ex-bourbon and ex-Oloroso casks for a finish of one year. While there's no age statement on the label, Redbreast Lustau Edition is made from whiskies matured for between 10 and 13 years. It will be available from 1st October 2016 for around € 65.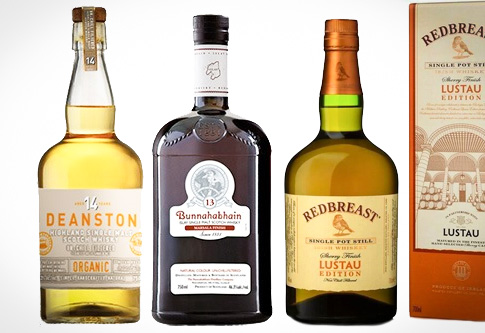 Deanston 14 Year Old 'Organic', a limited release bottled at 46,3%. A bit strange because Deanston already launched a 15 Year Old Organic earlier this year. I'm not sure whether this will go to separate markets or will simply replace the former.
Bunnahabhain 13 Year Old Marsala finish. A limited edition exclusive to the USA, first filled into ex-bourbon casks and left to mature for 10 years before being transferred to Marsala wine casks for a further 3 years.
We also expect a new Glenmorangie Pride 1974, a marriage of bourbon and Oloroso casks, bottled as a 42 year-old at 51% for travel retail (1l bottle). Based on the label design, I believe the bottle will be different from the previous Glenmorangie Pride 1978.
You've probably also heard the news about Johnnie Walker Island Green. This travel retail expression is a blended malt like Johnnie Walker Green Label, but with a smokier, Island-inspired style. This means more Caol Ila influence, paired to other malts from Clynelish, Glenkinchie, Cardhu and others. Contrary to the original Green Label, there's no age statement on this one. It will be available for around $60 / € 50 from July 2016.